The smart harvest market is projected to reach USD 15.6 billion by 2023, from USD 9.0 billion in 2018, at a CAGR of 11.81% during the forecast period. The rise in population has led to increased food demand, which in turn has led to increased pressure on farmers to increase yield and area harvested for various crops. However, global labor shortage in agriculture is one of the major factors leading to loss of yield due to improper maintenance and farming practices. To cater to this issue, farmers are highly adopting farm mechanization and other smart agriculture techniques to optimize their crop yields.
The harvesting robots market is segmented on the basis of crop type into vegetables and fruits. Manufacturers are developing and testing various harvesting robot technologies for commercial deployment during the forecast period. The current generation of smart harvest technologies is capable of harvesting a variety of fruits including apples, strawberries, and citrus fruits (lemons and oranges). The use of smart harvest systems expands the possibilities of integrating yield monitoring sensors and ripening controllers across a wide variety of fruits.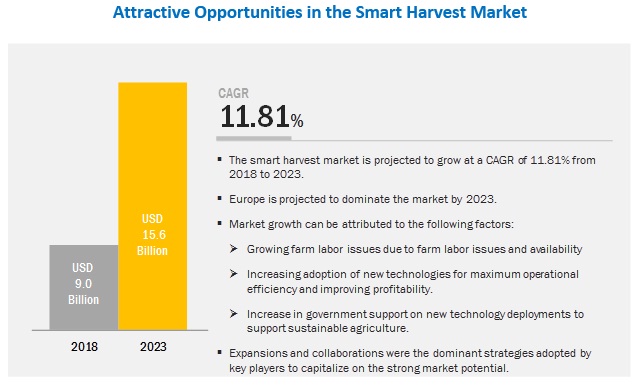 The smart harvest market has been segmented on the basis of component into hardware and software. The market for software is projected to record the higher CAGR between 2018 and 2023. The hardware aspect of the smart harvest market includes harvesting robots, automation and control systems, sensors, and imaging systems. All three hardware components are designed to coordinate their activities to move, identify, and harvest the fruit/vegetable. In the coming years, the integration of AI (Artificial Intelligence) in the smart harvest systems would allow the machines to make their own decisions based on the appropriate parameters.
Key players in the market include Robert Bosch GmbH (Germany), Deere & Company (US), Smart Harvest Ltd. (UK), Dogtooth Technologies (UK), Harvest Automation (US), Panasonic Corporation (Japan), Root AI (US), Abundant Robotics (US), Iron Ox (US), Agrobot (Spain), Energid Technologies Corp. (US), FFRobotics (Israel), Vision Robotics Corp. (US), Metomotion (Israel), AVL Motion (Netherlands), and Harvest Croo (US).