The report "Agricultural Sprayers Marketby Type (Self-propelled, Tractor-mounted, Trailed, Handheld, Aerial), Capacity, Farm Size, Crop Type, Power Source (Fuel-based, Electric & Battery-driven, Manual, Solar), and Region – Global Forecast to 2025", According to MarketsandMarkets, the global agricultural sprayers market size is estimated to be valued at USD 2.2 billion in 2020. It is projected to reach USD 3.1 billion by 2025, recording a CAGR of 6.5% during the forecast period. Agricultural sprayers have become essential for farmers or growers for spraying pesticides, herbicides, and fertilizers in the field pre- and post-harvest as per the requirement. Thus, the market for agricultural sprayers is growing due to extensive changes in farming and spraying technologies.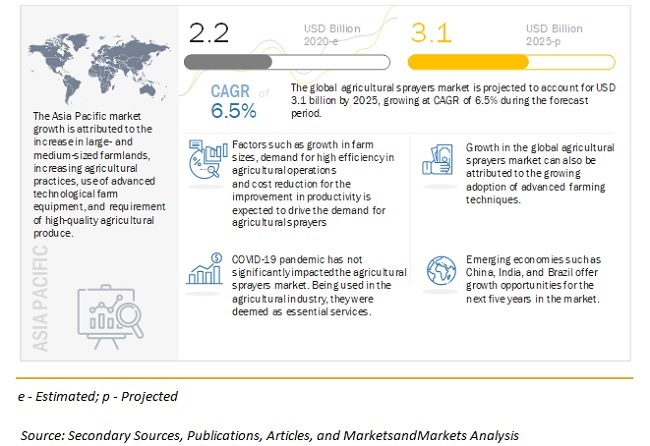 Report Objectives:
To describe and forecast the agricultural sprayers market, in terms of type, capacity, farm size, crop type, power source, and region
To describe and forecast the agricultural sprayers market, in terms of value and volume, by region–North America, Europe, Asia Pacific, South America, and the Rest of the World—along with their respective countries
To provide detailed information regarding the major factors influencing the market growth (drivers, restraints, opportunities, and challenges)
To strategically analyze micro-markets with respect to individual growth trends, prospects, and contributions to the overall market
To study the complete value chain of the agricultural sprayers market
To analyze opportunities in the market for stakeholders by identifying the high-growth segments of the agricultural sprayers market
Download PDF Brochure: https://www.marketsandmarkets.com/pdfdownloadNew.asp?id=46851524
Drivers: Increase in focus on farm efficiency and productivity
Agriculture has traditionally been a risky economic activity, and farmers worldwide have been impacted by economic downturns and environmental shifts. The newer technology versions of agricultural sprayers have provided various benefits to the farmers, such as low cost, increased spray efficiency, safety, and less damage to the crops and environment. This is subsequently growing the demand for sprayers in the global market. Agricultural sprayer manufacturers are increasingly inclined to focus on enhancing farmers' capabilities and knowledge to make them more productive and help them compete in the market. Also, the increasing implementation of precision farming techniques has improved the potential of manufacturers of sprayers to make the agricultural steps more efficient and predictable.
Restraints: High capital investment in modern agricultural equipment
The major restraining factor for the agricultural sprayers market is the high initial investment. Self-propelled and aerial sprayers need high initial investments, efficient farming tools, and skilled & knowledgeable farmers or growers; this makes the farmers apprehensive about using this technology. Farmers or growers are required to make a huge initial investment in GPS, drones, and GIS to collect input data, variable rate technology, and satellite devices, among others. The majority of the farmers are marginal farmers or small landholding farmers who find it difficult to invest in expensive equipment. This restraint is particularly high in developing countries such as India, China, and Brazil. Currently, most developing countries are importing farming equipment from other countries, which increases the product cost. Recently, these countries have started investing in the research & development (R&D) of smart farming equipment, owing to the increasing demand for farm management solutions. This demand would help in the reduction of hardware equipment and device prices. Moreover, many software designers are developing user-friendly solutions to save the consultation cost of farmers. 
Speak to Analyst: https://www.marketsandmarkets.com/speaktoanalystNew.asp?id=46851524
The Asia Pacific region is projected to account for a major share in the market during the forecast period
This market is also projected to be the fastest-growing during the forecast period. Agriculture is the major occupation in the Asia Pacific region; it has a huge regional presence, including countries like China, India, Australia, Japan, and the Rest of Asia Pacific. Thus, the increasing agricultural practices, use of advanced technological farm equipment, and requirement of high-quality agricultural produce are expected to drive the agricultural sprayers market in this region.
This report includes a study on the marketing and development strategies and the product portfolios of leading companies. It consists of profiles of leading companies, such as John Deere (US), CNH Industrial N.V. (UK), Kubota Corporation (Japan), Mahindra & Mahindra Ltd. (India), STIHL (Germany), AGCO Corporation (US), Yamaha Motor Corp. (Japan), Bucher Industries AG (Switzerland), EXEL Industries (France), AMAZONEN-Werke (Germany), BGROUP S.p.A. (Italy), Agro Chem Inc. (US), Boston Crop Sprayers Ltd. (UK), H&H Farm Machine Co. (US), Buhler Industries Inc. (Canada), AG Spray Equipment, Inc. (US), and John Rhodes AS Ltd (UK).