The report "Artificial Grass Market by Installation (Flooring, Wall Cladding), Fiber Base Material (Polyethylene, Polypropylene, Nylon), Application (Contact Sports, Non-contact Sports, Leisure, Landscaping), Infill Material, and Region – Global Forecast to 2022″, The artificial grass market is estimated to be valued at USD 3.20 Billion in 2017 and is projected to reach USD 4.45 Billion by 2022, at a CAGR of 6.8% during the forecast period. The market is driven by factors such as increased applications in the landscaping space, replacement of natural grass with artificial grass in sports fields, and growing popularity of various sports in different regions.
Artificial grass is a surface material that imitates natural grass. It is made from synthetic fibers such as polyethylene, polypropylene, and nylon. Initially associated with sports fields, artificial grass has now expanded its applications into residential and commercial landscape, playgrounds, golf courses, and parks.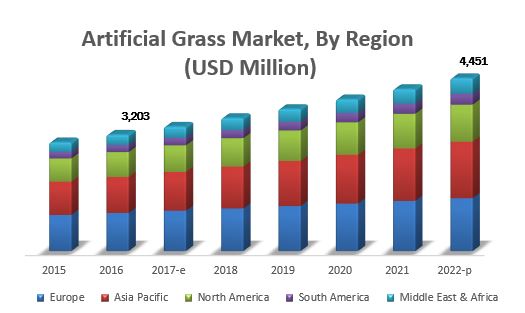 The market for artificial grass is growing at a significant pace, globally, due to increased demand from the landscaping space. Another major factor driving the artificial grass market growth is the replacement of natural grass with artificial grass in sports venues. Artificial grass is gaining popularity due to its low maintenance cost and better durability compared to natural grass. Furthermore, artificial grass aids in water conservation and eliminates the use of pesticides that cause water pollution.
Several multinational companies, such as Tarkett and Shaw Industries, which manufacture flooring and carpets have included artificial grass products in their portfolios, to expand their product offering.
Download PDF Brochure:
https://www.marketsandmarkets.com/pdfdownloadNew.asp?id=238480246
Factors supporting the growth of artificial grass market
Growing demand from sport venues
With increased concerns about heavy maintenance of natural grass fields to endure harsh weather conditions and facilitate green turf through continued use of water and fertilizers, the demand for artificial grass is increasing from sports fields. Artificial grass is gaining attention from multiple end users of natural grass such as athletic fields, mainly the contact sports and landscaping industries, due to its higher durability, safety, performance, quality, and cost-effectiveness as compared to natural grass. The use of artificial grass helps stakeholders utilize the fields for an extended time period (approximately a decade) with comparatively easy and lower maintenance and no hazardous or adverse effects on the environment.
Considering the multiple benefits of artificial grass, its adoption has further resulted in the higher availability of sports fields across the year, leading to a high return on investment. The added advantage of artificial grass is that it can also be recycled once its quality wears off.
2. Increase in number of stadiums using artificial turf
Europe is the largest market for artificial grass and is projected to follow the same trend in the coming years. This dominance can be attributed to the presence of a substantial number of synthetic fields mainly, football fields. According to the European Tyre and Rubber Manufacturers Association (ETRMA), Germany, the UK, and France top the list for the number of synthetic football fields installed per year. Germany accounts for more than 240 synthetic football fields installed annually while the UK and France account for a range of 160-200.
The US is also a major market for artificial turf. According to the Synthetic Turf Council, "Currently, there are between 12,000 and 13,000 synthetic turf sports fields in the US, with approximately 1,200 – 1,500 new installations each year." Market Report Vision 2020 by The European Synthetic Turf Organisation (ESTO, 2016) stated that there are over 13,000 synthetic turf football fields within the EU and over 47,000 minipitches used for football.
Request for Customization:
https://www.marketsandmarkets.com/requestCustomizationNew.asp?id=238480246
The demand for artificial grass in developed countries of Europe is estimated to increase to ensure efficient working of contact sports, which are played in this region on a larger scale. To optimize the playing area and support environmental safety, artificial grass is being increasingly used in the European region. One of the key areas for maintenance of environmental safety is through conservation of water; to support this activity, Spain has around 2,000 synthetic turf soccer fields, according to the European Synthetic Turf Organization (ESTO). The use of artificial grass is an effective way to meet the environmental safety parameters.
Such an increase in the use of artificial grass for sports facilities is driving the global artificial grass market since it is compatible for a broad category of end users and lowers the cost of maintenance as compared to natural grass fields. The growing replacement of natural grass by artificial grass in sports fields is showing a positive outlook for the artificial grass market.