The livestock grow lights market is projected to grow from USD 6.3 billion in 2018 to USD 8.6 billion by 2023, at a CAGR of 6.4% during the forecast period. The major factors driving the livestock grow lights market include the increasing demand and consumption of animal-based products such as meat, milk, and eggs. Further, rising focus on livestock welfare and growth along with technological innovation for smart farming practices is projected to drive the market.
The Asia Pacific market accounted for the largest share in the livestock grow lights market. The large market share in this region is attributed to the presence of large livestock population (FAO STATISTICS 2016) and their growth.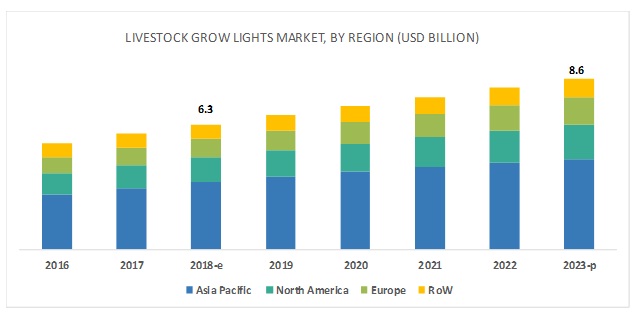 Furthermore, the increasing number of livestock farms and the growing size of existing farms are also projected to contribute to the large market of the Asia Pacific region. Adoption of smart technologies for farms to reduce input cost along with energy consumption, and focus on the growth and development of the livestock population by farmers also drives the demand for livestock grow lights in this region.

Major vendors in the livestock grow lights market include OSRAM (Germany), Signify Holding (Netherlands), DeLaval (Sweden), Big Dutchman (Germany), Uni-light LED (Sweden), Once Inc. (US), AGRILIGHT BV (Netherlands), Aruna Lighting (Netherlands), HATO BV (Netherlands), Shenzhen Hontech-Wins (China), CBM Lighting (Canada), Fienhage Poultry Solutions (Germany), SUNBIRD (South Africa), ENIM UAB (Lithuania), and Greengage Lighting (UK).