According to MarketsandMarkets, the water hardness test strip market is estimated to be valued at USD 56.5 billion in 2020 and is projected to reach USD 70.2 billion by 2025, recording a CAGR of 4.4 %, in terms of value.. Rise in number of industrial establishments and surge in rate of urbanization are the two key factors that drive the value sales growth for water hardness test strip market.

Asia Pacific is projected to account for the largest market share during the forecast period
India, China and countries of Southeast Asia are witnessing strong demand for water hardness testing strips thereby propelling the region to exhibit growth rates faster than global average.
Key players in the market are eying on the promising growth scenario of emerging economies in Asia Pacific and this trend is expected to provide strong growth impetus.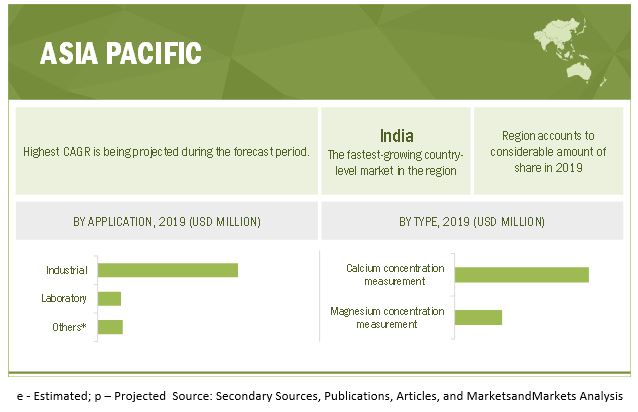 Asia Pacific is projected to witness the fastest growth in the water hardness test strip market during the forecast period due to the globalization of business and technological innovations in water treatment segment. The robust demand scenario of the region propels the growth trajectory of water hardness test strips in the region. India, Australia & New Zealand, and Southeast Asia are some of the regional hotspots exhibiting the highest growth rate in that order for the sales performance of water hardness test strips.

Key players are Thermo Fisher Scientific, Inc. (US), Merck KGaA (Germany), Danaher Corporation (US),LaMotte Company (US), Johnson Test Paper Ltd (UK), Serim Research Corporation (US), Avantor, Inc. (US), Isolab Laborgerate GmbH (Switzerland), Aqua Cure Ltd. (England), Cole-Parmer Instrument Company, LLC (US), Spectris (UK),  Industrial Test Systems, Inc. (US), US Water Systems, Inc (US) Bartovation LLC (US), Colorkim Kimya (Turkey), Simplex Health (UK), Amity International (UK), Instruments Direct Services Limited (UK), Hangzhou Lohand Biological Co., Ltd (China), and Changchun Wancheng Bio- Electron Co., Ltd. (China).