The Industrial Oils Market is evaluated at USD 60.2 billion in 2019 and is projected to grow at a CAGR of 5.0% from 2019 to 2025, to reach USD 80.7 billion by 2025.
The biodiesel industry is projected to be a major revenue generator for industrial oils manufacturers in the coming years due to its reduced environmental impact. In addition, the industrial sector in the emerging countries in the Asia Pacific region is growing in countries such as China and India, which is a hub of industrial oils, due to the expanding chemical, biodiesel, and cosmetics industries. These factors are projected to create new opportunities for the growth of the global industrial oils market in the coming years.

The industrial oil market, on the basis of source, is segmented into soybean, corn, sunflower, cottonseed, rapeseed, palm, and others (olive, safflower, copra, groundnut, linseed/flaxseed, and grape seed). The palm segment is estimated to account for the largest share in the global market in 2019.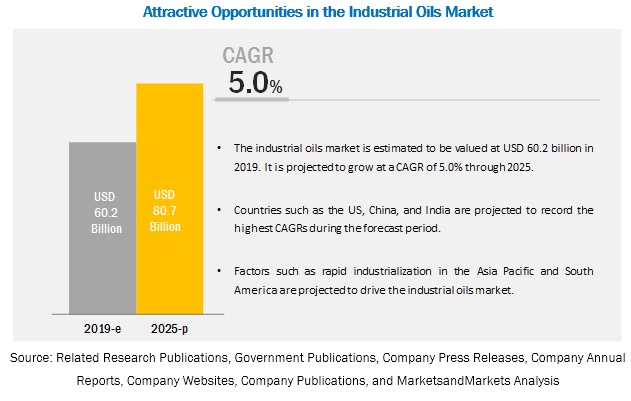 Biodiesel is used as an alternative fuel for diesel engines. It attracts the attention of the users due to its renewability, purity, and low exhaust pollution. Biodiesel is produced from a variety of oilseeds. In the European region, rapeseed oil is mainly used for the production of biodiesel, whereas in the US, soybeans are dominant biodiesel feedstock.
The market in the Asia Pacific region witnesses high growth in Indonesia and Malaysia, which supply over 85% of the global palm oil. This offers growth opportunities to palm oil manufacturers in these countries as they can export as well as utilize for domestic usage in industries such as biofuels.

Key players in global industrial oils market include Cargill (US), Bunge Limited (Netherlands), Wilmar International (Singapore), Louis Dreyfus Company B.V. (Netherlands), Archer Daniels Midland (ADM) (US), Buhler Group (Switzerland), CHS Inc. (US), Ag Processing Inc (US), A&A Fratelli Parodi Spa (Italy), Gemtek Products (US), AAK Kamani (India), and Soya Mills SA (Greece). These companies have undertaken expansions as one of the key strategies to expand their presence in this market.