The report "Biofertilizers Market by Form (Liquid, Carrier-Based), Mode of Application (Soil Treatment, Seed Treatment), Crop Type, Type (Nitrogen-Fixing, Phosphate Solubilizing & Mobilizing, Potash Solubilizing & Mobilizing), Region – Global Forecast to 2025″ The biofertilizers market is projected to reach USD 3.8 billion by 2025, from USD 2.0 billion in 2019, recording a CAGR of 11.2% during the forecast period. Rising awareness about the hazards of chemical fertilizers among consumers, soil degradation, nitrate emissions, along with government initiatives, is projected to witness significant growth during the forecast period.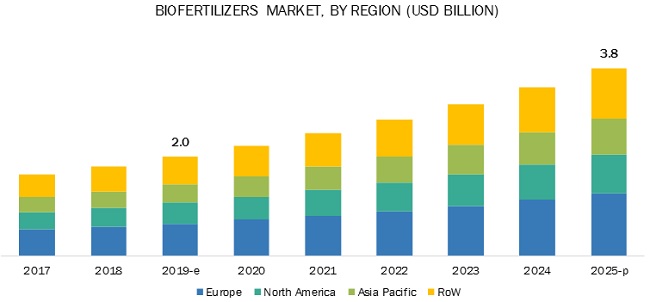 Report Objectives:
To determine and forecast the size of the biofertilizers market, by form, by mode of application, crop type, type, and region
To identify attractive opportunities in the biofertilizers market by determining the largest and fastest-growing segments across regions
To strategically analyze the demand-side factors based on the following:
Impact of macro- and microeconomic factors on the market
Shifts in demand patterns across different subsegments and regions
To identify the key drivers and restraints that have an impact on the global market
Download PDF Brochure:
https://www.marketsandmarkets.com/pdfdownloadNew.asp?id=856
Growth in the organic food industry
Consumers, nowadays, are becoming highly concerned about food safety issues, the rising residue levels in food, and environmental issues, due to the rising concerns about their health. This rise in awareness has induced them to prefer chemical-free food products. As a result, major supermarket chains such as Wal-Mart and Cosco are increasing their product offerings of organic foods. The restaurant industry in many developed countries is also offering organic food menus to serve health-conscious consumers. The growth in the organic food industry is triggering the demand for biofertilizers and organic manures, as these are pre-requisites of organic farming. These factors have increased organic retail sales in many countries, such as the US, Germany, China, Switzerland, and Denmark.
According to the United States Organic Food Market Forecast & Opportunities, 2018, western US drives the organic food market revenue due to the growing domestic production and increasing awareness. As a result of this growth of the retail organic food industry, the market for biofertilizers is growing at a global level.
As per the Food and Agriculture Organization (FAO) of the United Nations, the US organic sales increased to USD 35 billion in 2014 from USD 28.4 billion in 2012. Among these, fresh fruits and vegetables had been the top-selling categories of organically grown food.
Based on form, liquid biofertilizers is estimated to account for a major value share in 2019
Of both the forms, the usage of liquid biofertilizers remains substantially high, globally. This is due to its higher shelf life as compared to carrier-based biofertilizers. Liquid biofertilizers have a life expectancy of 2 to 3 years, making it more convenient and affordable for farmers in developing countries. Moreover, liquid fertilizers have better tolerance limits for adverse conditions. The quality control protocols for liquid biofertilizers are also easy and expeditious compared to carrier-based biofertilizers. Thus, in terms of value, the liquid biofertilizers segment is estimated to dominate the global market in 2019.
Higher consumption of biofertilizers for organic fruits & vegetables contributes to the growth of the biofertilizers market in this segment
Biofertilizers have proved to be useful in numerous ways, including improving the quality, shelf-life, and yield of fruits & vegetables. The increasing trend of consumer preferences for organic fruits & vegetables due to changing lifestyle and rising per capita income is the primary factor driving market growth. A rising trend in the cultivation of organic fruits & vegetables and those under IPM practices have also created a positive impact on the growth of the biofertilizers market.
Request for Customization:
https://www.marketsandmarkets.com/requestCustomizationNew.asp?id=856
With the increasing demand for organic food products, North America is estimated to dominate the biofertilizers market in 2019
Changing lifestyle and increasing buying power among consumers has increased the demand for biofertilizers. High adoption of advanced irrigation systems such as drip & sprinkler irrigation and widespread acceptance of biofertilizers among the farmers is further propelling the market growth. The farmers in this region are highly skilled in terms of knowledge and machinery. Due to the rampant use of chemical fertilizers, the fertility of the soil is declining. To maintain soil fertility as well as the yield of crops, farmers are sustainably opting for biofertilizers.
This report includes a study of the development strategies of leading companies. The scope of this report consists of a detailed study of biofertilizer manufacturers such as Novozymes (Denmark), Kiwa-Biotech (China), Rizobacter Argentina S.A (Argentina), Lallemand Inc. (Canada) and Symborg (Spain).