The report "Biofertilizers Market by Form (Liquid, Carrier-Based), Mode of Application (Soil Treatment, Seed Treatment), Type (Nitrogen-fixing, Phosphate solubilizing & Mobilizing, Potash Solubilizing & Mobilizing), Crop Type, and Region – Global Forecast to 2026" The global biofertilizers market size is estimated to be valued at USD 2.6 billion in 2021 and is expected to reach a value of USD 4.5 billion by 2026, growing at a CAGR of 11.9% in terms of value during the forecast period. Factors such as  growth in consumer preference for organic food products, adoption of soil fertility management practices, serious concerns regarding the control of nitrate emissions and eutrophication in the aquatic environment, and government promotions for the use of organic fertilizers are some of the factors driving the growth of the biofertilizers market.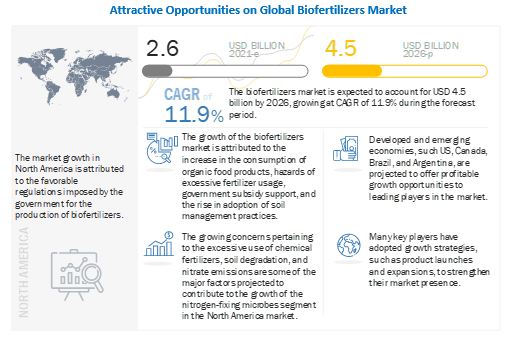 Restraint: Environmental and technological constraints
Biofertilizer products have a limited shelf-life and run a high risk of contamination. The microorganisms used as biofertilizers become non-viable when exposed to high temperatures. Therefore, it is very important to store them in a cool and dry place. The major problem in the agricultural inoculation technology is the survival of microorganisms during storage; other challenges revolve around several parameters such as culture medium, physiological state of the microorganisms when harvested, dehydration process, rate of drying, temperature maintenance during storage, and water activity of inoculants. These challenges influence the shelf-life of microbes. The market also has less availability of research & development and testing labs, which is hindering the growth of the biofertilizers market. There is also a need for a quality management system to provide better microbial products to farmers.  
Download PDF Brochure: https://www.marketsandmarkets.com/pdfdownloadNew.asp?id=856
Opportunity: New target markets: Asia Pacific & Africa
The Asia Pacific and African regions are the largest consumers of fertilizers. The increasing rate of population, especially in Asia, has resulted in the increasing demand for food, which would, in turn, lead to the increased consumption of fertilizers. However, the major concerns in this region are pollution and contamination of soil as well as their harmful effects on human beings. To combat the harmful effects of chemical fertilizers, governments in these regions are emphasizing the use of environmental-friendly fertilizers, such as biofertilizers and organic manure.
Nitrogen-fixing microbes, by type, is estimated to account for the largest market share during the forecast period
Nitrogen-fixing microbes account for the largest market size during the forecast period. Biological nitrogen fixation provides sustainable and environment-friendly agricultural production. The value of nitrogen-fixing biofertilizers in improving and enabling a higher yield of legumes and other crops can be realized through the application of biofertilizers. They are mainly used in legumes, pulses, black grams, groundnuts, and soybeans. Among all the microorganisms, rhizobium is majorly used due to its efficiency in nitrogen fixation as well as popularity. Rhizobium is a symbiotic, nitrogen-fixing bacterium, which integrates atmospheric nitrogen and fixes it in the root nodules of crops.
North America is estimated to hold the largest market share during the forecast period
The imposition of bans on the usage of harmful chemicals and fertilizers in the agricultural industry by governments in North American countries has created a high growth potential for biofertilizers. In addition, the increasing acceptance of organic foods among consumers is projected to widen the scope of growth for leading players. The US dominated the biofertilizers market in North America in 2020. The FDA introduced stringent regulations pertaining to the quality standards of agricultural products, which is projected to encourage the use of biofertilizers in the US.     
Speak to Analyst: https://www.marketsandmarkets.com/speaktoanalystNew.asp?id=856
 
This report includes a study on the marketing strategies and the product portfolios of the major companies that operate in the biofertilizers market. The report has leading company profiles such as Novozymes A/S (Denmark), Vegalab SA (Switzerland), UPL Limited (India), Chr. Hansen Holding A/S (Denmark), Kiwa Bio-Tech (China), Lallemand Inc. (US), Rizobacter Argentina S.A. (Argentina), T. Stanes & Company Limited (India), IPL Biologicals Limited (India), Nutramax Laboratories Inc. (US), Symborg (Spain), Kan Biosys (India), Mapleton Agri Biotech Pty Ltd (Australia), Seipasa (Spain), AgriLife (India), Manidharma Biotech Pvt Ltd (India), Biomax Naturals (India), Jaipur Bio Fertilizers (India), Valent BioSciences (US), Aumgene Biosciences (India), Agrinos (US), Criyagen (India), LKB BioFertilizer (Malaysia), Varsha Bioscience and Technology India Pvt Ltd. (India), and Valagro (Italy).