The report "Biological Seed Treatment Market by Type (Microbials and Botanicals), Crop (Corn, Wheat, Soybean, Cotton, Sunflower, and Vegetable Crops), Function (Seed Protection and Seed Enhancement), and Region – Global Forecast to 2025″, is projected to reach USD 1.7 billion by 2025, from USD 0.9 billion in 2020, at a CAGR of 11.9% during the forecast period. The market is driven by factors such as high demand for sustainable agriculture in the global market, lesser risks of exceeding pesticide MRLs, and insurance to seed investments.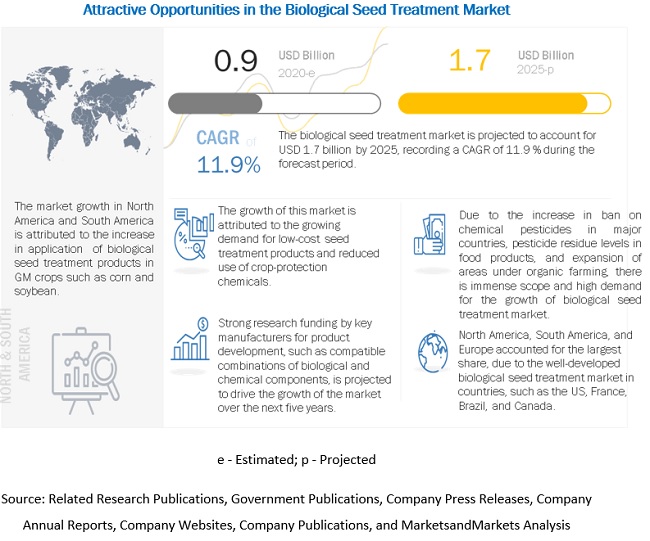 Biological Seed Treatment Market Dynamics:
Driver: Environmental concerns associated with chemical seed treatment
The demand for biological seed treatment has significantly increased as a result of high awareness of their potential and the growing attention to the environmental and health risks associated with conventional chemicals. Chemical seed treatments are detrimental to the environment and pose a serious risk to pollinators. The neonicotinoid class of insecticides is considered highly toxic to honeybees. Microorganisms employed as active substances in pest management are recognized as generally safe for the environment and non-target species, in comparison with synthetic chemicals.
Download PDF Brochure: https://www.marketsandmarkets.com/pdfdownloadNew.asp?id=162422288
Restraints: Government regulatory barriers
The regulatory environment for active biological ingredients differs between countries and regions. Generally, authorities around the world recognize that biological seed treatment products are beneficial but different from chemical plant protection products. Moreover, this recognition has not necessarily led to consistent approaches in regulatory requirements or review processes. In some countries, biologicals are registered under specific legislation or they may be registered in a similar manner as chemical plant protection products. At times, there are reduced data requirements, and other times there may be no well-defined process at all for their registration.
By type, microbials segment is projected to dominate the seed treatment market during the forecast period.
The biological seed treatment market, by type, has been segmented into microbials, botanicals, and others (biofermentation products and natural polymers & derivatives). The microbials industry dominated the market in 2020, due to the increasing demand for microbial seed treatments, in field crops such as soybean and corn.
Many key companies, such as Bayer AG (Germany), Syngenta Group (Switzerland), and Corteva Agriscience (US), offer innovative biological seed treatment solutions for controlling seed and soil-borne diseases in a broad range of crops. This exponential growth in this North America region is attributed to government subsidies, increasing need to improve and protect food production, and rising awareness of biological seed treatment.
Speak to Analyst: https://www.marketsandmarkets.com/speaktoanalystNew.asp?id=162422288
North America is projected to be the fastest-growing market
The major reason for the biological seed treatment market experiencing such a high growth rate is the highly streamlined product registration process, which makes it easier for most private companies to launch their products easily. Lower investment requirement and limited gestation period involved in the development and commercialization of biological products are key factors attracting a large number of startup companies in the industry. Additionally, growing awareness among consumers against synthetic chemicals has also led to a higher adoption of these products.
This report includes a study of marketing and development strategies, along with the product portfolios of leading companies. It also includes the profiles of leading companies such as BASF SE (Germany), Bayer AG (Germany), Syngenta Group(Switzerland), Corteva Agriscience (US), Valent BioSciences (US), Verdesian Life Sciences (US), Plant Health Care (US), Precision Laboratories (US), Koppert Biological Systems (Netherlands), Italpollina (Italy), Marrone Bio Innovation (US), Certis Europe (Netherlands), UPL Limited (India), Novozymes A/S (Denmark), IPL Biologicals (India), Rizobacter (Argentina), Bioworks, Inc (US), Advanced Biological Marketing (US), Kan Biosys (India), and Incotec (Netherlands).