The rising incidence of cancer, increasing government funding, rising research activates on stem cell therapies, growing awareness regarding advanced treatment methods, growing geriatric population, and the strong presence of industry players are large share of cell expansion market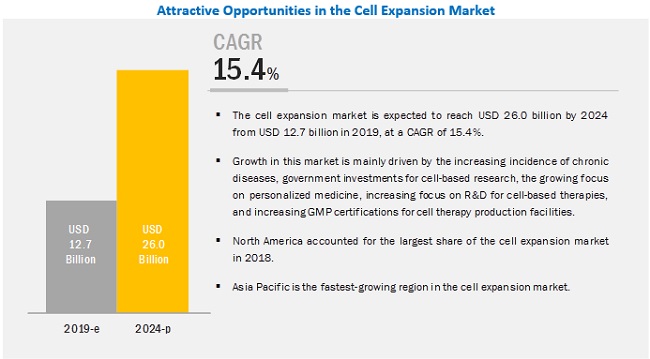 The cell expansion market is projected to reach USD 26.0 billion by 2024 from USD 12.7 billion in 2019, at a CAGR of 15.4% during the forecast period. Growth in this market is mainly driven by the increasing incidence of chronic diseases, government investments for cell-based research, the growing focus on personalized medicine, increasing focus on R&D for cell-based therapies, and increasing GMP certifications for cell therapy production facilities.
The cell expansion market is segmented into consumables and instruments. Consumables are segmented into reagents, media, sera, and disposables. The instruments segment includes cell expansion supporting equipment, bioreactors, and automated cell expansion systems. In 2018, consumables accounted for the largest share of the cell expansion products market owing to the constant requirement for new reagents among end users and rising investments for R&D on cell-based therapies.

Download PDF Brochure: https://www.marketsandmarkets.com/requestsampleNew.asp?id=194978883

Cell Expansion Market, by Product
Cell Expansion Market, by Cell Type
Cell Expansion Market, by Application
Regenerative Medicine and Stem Cell Research
Cancer and Cell-based Research
Other Applications (clinical studies, toxicology studies)
Cell Expansion Market, by End User
Research Institutes
Biotechnology and Biopharmaceutical Companies
Cell Banks
Other End Users (Hospitals and diagnostic laboratories)

Cell Expansion Market, by Region
US
Canada
Germany
UK
France
Italy
Spain
Rest of Europe
China
Japan
India
Singapore
South Korea
Rest of Asia Pacific
Rest of the World
Latin America
The Middle East and Africa
Key Players
Some of the prominent players in the global cell expansion industry market are Thermo Fisher Scientific, Inc. (US), Becton, Dickinson and Company (US), Terumo BCT (Japan), Merck KGaA (Germany), Danaher Corporation (US), Miltenyi Biotec (Germany), Lonza Group Ltd. (Switzerland), STEMCELL Technologies Inc. (Canada), GE Healthcare (US), and Corning, Inc. (US).

Recent Developments
In 2016, Thermo Fisher Scientific acquired Affymetrix Inc. (US) for USD 1.3 billion. The acquisition enables Thermo Fisher Scientific to increase its market in the field of cellular and genetic analysis.
In 2017, Becton, Dickinson and Company Received 510(k) clearance for its BD FACSLyric flow cytometer system.
Request Sample Pages @ https://www.marketsandmarkets.com/requestsampleNew.asp?id=194978883