The global chicory market size is estimated to be valued at USD 685 million in 2020 and is projected to reach USD 905 million by 2025, recording a CAGR of 5.7% during the forecast period. With the rising consumption of coffee beverage along with the rising prices of coffee beans and demand for organic and all-natural ingredient based products, the market for chicory is projected to witness a positive outlook, in the coming few years. Also, chicory is a cheaper substitute ingredient that has multiple applications across various industries. Owing to its caffeine-free and health benefitting characteristics, it has great potential to cater existing as well as newer application areas, with ongoing and continuous research. Thus, with all these factors accumulatively, the chicory market is expected to witness a substantial growth potential in the coming few years.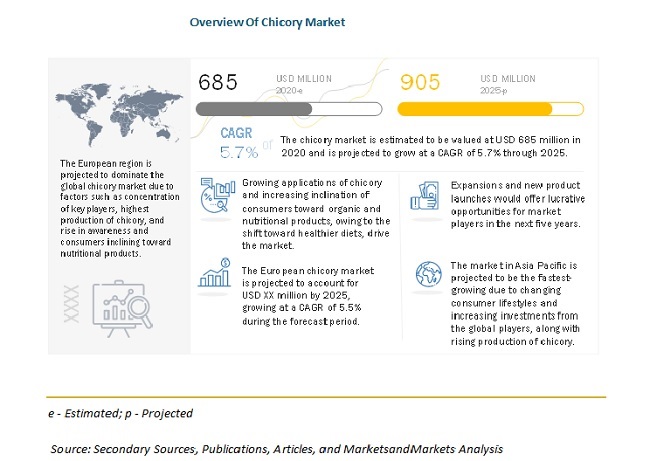 Key players in this market include Cosucra Groupe Warcoing (Belgium), Delecto Foods Pvt Ltd (India), BENEO GmbH (Germany), Sensus (Netherlands), Leroux (France), Cargill Incorporated (US), Reily Foods Company (US), Pioneer Chicory (India), PMV Nutrient Products Pvt Ltd (India), Farmvilla Food Industries Pvt Ltd (India), Murlikrishna Foods Pvt Ltd (India), Starwest Botanicals (US), STOKROS Company Ltd (Russia), Nature's Gold Production (Netherlands), Organic Herb Trading Co (UK), Narasu's Coffee Company (India), NP Nutra (US), Shaanxi Sciphar Natural Product Co Ltd. (China), Jamnagar Chicory Industries (India), and Herbs & Crops Overseas (India).
BENEO GmbH is a global company catering to the dynamic demands and developments in the food and feed industry. It is a subsidiary company of Südzucker Group–one of the leading food producers in Europe. BENEO supplies food ingredients and caters to four broad segments: human nutrition, animal nutrition, pharmaceutical excipients, and intense sweetener. It offers a range of products derived from natural sources such as chicory roots, sugar beet, rice, and wheat. The company's product portfolio is used in the following applications: baby food, bakery, cereals, beverages, confectionery, dairy, meat & vegetables, and soups & sauces under the human nutrition segment. The company's products further cater to applications such as pet food, aquafeed, pig feed, ruminant feed, and poultry feed under the animal nutrition segment and tablets, powder blends, wet granulation, high boiled lozenge, pan coating, and syrup under the pharmaceutical excipients segment. It offers an array of chicory products through its human nutrition business segment under the functional fiber category. Its human nutrition business segment is further categorized into four categories: functional fibers, functional carbohydrates, specialty rice ingredients, and functional proteins. This company has a wide geographical presence across the European, Asia Pacific, and North American regions. Apart from that, the company owns several production sites located in Belgium, Germany, Italy, and Chile. The company utilizes chicory roots in the production of different range of a functional ingredient called inulin.
Download PDF Brochure: https://www.marketsandmarkets.com/pdfdownloadNew.asp?id=122013320
Sensus, a Netherlands-based company, is a manufacturer and distributor of innovative ingredients, which mainly includes chicory inulin and chicory oligofructose. Sensus is a subsidiary of Royal Cosun Group, an international developer, manufacturer, and supplier of natural food ingredients and products. The company has a wide geographic presence in over 45 countries along with strong geographical operations across regions including North America, South America, Africa, Europe, Australia & New Zealand, and Asia Pacific. It has its production facilities located in Roosendaal and Zwolle. Sensus largely caters to the manufacturers belonging to the dairy, bakery, breakfast cereal, cereal bars, infant nutrition, beverages, confectionery, ice cream, savory, and healthcare nutrition sectors. The company's product portfolio includes prebiotic and soluble dietary fibers with texturizing properties and a pleasant taste that provide added health benefits. The company ideally contracts many local farmers for the procurement of raw material for further production. Sensus is constantly seeking new inulin applications, often in collaboration with its customers and business partners, accordingly, to develop, market, and cater healthier food ingredients and products in the market.
The Europe region dominated the chicory market with the largest share in 2019, whereas Asia Pacific is expected to witness the highest growth rate.
The European market accounted for the largest share in 2019. According to FAOSTAT, Europe contributed to over 95.5% of the global production of chicory roots. According to the same data, Belgium is the largest chicory roots producing county in Europe, followed by France, the Netherlands, and Poland. Consumers of chicory in Europe witness a high preference for clean-label products due to the increase in awareness pertaining to the consumption of natural and free-from products. This, in turn, is projected to drive the chicory market in this region. The region also witnesses the concentration of maximum global players engaged in the manufacturing and marketing chicory products in the global market. Thus, the European region was the largest contributor to the global chicory market in 2019.
Asia Pacific is projected to witness a higher growth rate during the forecast period. This is attributed to factors such as untapped potential, growing awareness among the population, rising investments from the global key players, and increasing economic developments, among others. The densely populated countries in the region with higher risks of chronic diseases such as obesity and heart-related issues are expected to bolster the growth in demand for chicory. The growing food & beverage industry, along with the rising cultivation and production of chicory, is further driving the demand and growth prospects for the chicory market in Asia Pacific.
Make an Inquiry: https://www.marketsandmarkets.com/Enquiry_Before_BuyingNew.asp?id=122013320
Recent Developments:
In July 2020, BENEO GmbH announced a significant expansion for its chicory root fiber production facility in Chile by 2022, funded by an investment of more than EUR 50 million. This was done as a result of rising interest in chicory root fibers from food and drink manufacturers around the globe, creating a high market demand for BENEO's inulin and oligofructose ingredients.
In July 2020, Approval was granted exclusively to Sensus' Frutafit inulin and Frutalose fructooligosaccharides made from chicory roots by the Thailand FDA. This development would allow the company to penetrate the Thailand local market and thereby expand the consumer base in the digestive health market.
In November 2018, Cargill's food ingredients and applications business chose six North American distribution partners—Univar Inc., Gillco Ingredients, International Food Products Corporation, Batory Foods, Pearson Sales Company, and St. Charles Trading, Inc. This would benefit the company in optimizing the customer experience, streamlining the supply chain, and creating a platform to generate sustainable growth through a select group of committed channel partners.