The global cloud ERP market size is expected to grow from USD 24.5 billion in 2019 to USD 37.7 billion by 2024, at a Compound Annual Growth Rate (CAGR) of 9.0%. The growth factors for the cloud ERP market include an increasing demand among enterprises to improve the operational efficiency and streamline the business processes.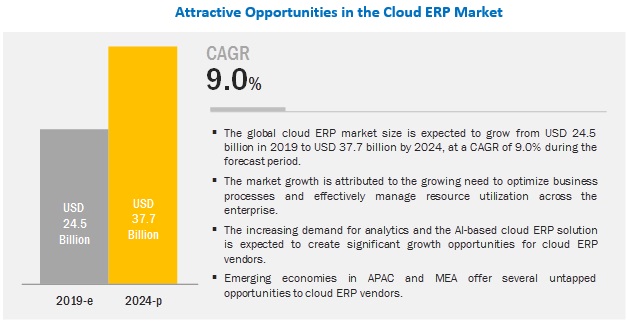 The services segment is expected to grow at a higher CAGR during the forecast period. Services are integral part of any software solution. Services include deployment, integration, product upgradation, maintenance, training, and consulting. Services ensure the smooth working of any software and maximum uptime. The services are categorized into managed services and professional services. The managed services are valued based on their use and are provided by third-party vendors. By leveraging managed services enterprises can outsource some of the operational activities to the third party, which will help them to focus on their core competencies. The cost implied while using the managed services is limited to the time and amount of their use. Professional services are obtained directly from parent companies. These services can be provided in the form of advisory, implementation and integration, and support and maintenance. The demand for advisory services would increase, as the adoption of technology-based software solutions is expected to increase. Support services include assistance provided during installation and maintenance activities.
Growing demand adoption of cloud ERP amongst the enterprises is expected to fuel the demand for implementation and integration services segment. Cloud ERP vendors offer integration and implementation services to organizations for hassle-free implementation, installation, and integration of cloud ERP solution. Cloud ERP systems are easier to scale and provide the flexibility of adding more users, as the business grows. Trained professionals are required for the implementation of a cloud ERP solution. Integration techniques aim at providing a seamless integration of various business applications and systems with the ERP solution. The integration and implementation services are important, as they help in reducing the complexities in configuring software in the existing systems.
The finance and accounting segment is expected to grow at a higher CAGR during the forecast period. Finance and accounting are one of the most crucial business processes in any organization. Enterprises take great care while handling financial data. Cloud ERP for finance and accounting is designed to be comprehensive, integrated, and highly scalable for global companies in a wide variety of industries. It has features, such as ledger and analytics, and payables and assets. It manages customer data centrally, creates customer invoices, receives and applies customer payments, manages customer balances, and recognizes revenues and invoices.
Growing digital transformation initiatives amongst the enterprises across the APAC region is one of the major factor for the growing demand for cloud ERP in the region. APAC is expected to grow at the highest CAGR in the global Cloud ERP market during the forecast period. Rapid advancements in telecom infrastructure, cloud computing, and IoT in APAC have encouraged many organizations to focus on providing good end-user experience for their web and mobile applications.
APAC is expected to witness rapid adoption of cloud ERP. Many organizations are introducing cost-effective cloud-based offerings targeted at the region's increasingly mobile workforce. Large corporations are embracing the cloud, as they need to move quickly in today's dynamic environment without being held down by an immovable and inflexible IT infrastructure. In addition, SMEs in the region are also moving swiftly toward cloud adoption, realizing the benefits of the lower cost and convenience of third parties managing their IT needs.