The global tartaric acid market is projected to reach USD 285.6 million by 2022, at a CAGR of 5.77%; in terms of volume, it is projected to reach 91.2 KT by 2022, at a CAGR of 4.50%
Tartaric acid is an essential additive in bakery items where it functions as a leavening agent when mixed with baking powder. It also enhances fruit flavours and stabilizes batter systems and colour in baked foods. During winemaking, tartaric acid extracts act as buffers to regulate antioxidants, acidity, and as preservatives; in other food items, it acts as natural flavor enhancers, and food emulsifiers.
Now-a-days, there is a trend among consumers toward opting for natural ingredients in food & beverage products, which leads to growth in the demand of naturally extracted tartaric acid.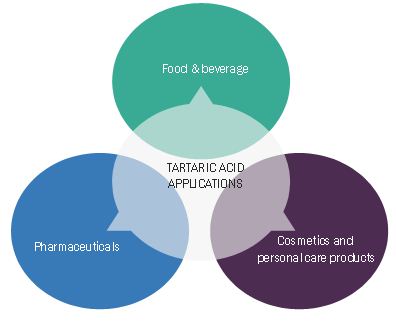 Moreover, the demand for tartaric acid is supported by the growing consumption of sports and protein drinks and nutritional bars, as well as the introduction of fruit-flavored beverages, where it is used as an acidulant to give a sour taste and to stabilize the color properties of the respective beverage.

Key players are Caviro Group (Italy), ATP Group (US), Merck (Germany), Omkar Specialty Chemicals (India), Changmao Biochemical Engineering (China), Tarac Technologies (Australia), PAHI (Spain), Distillerie Mazzari (Italy), Distillerie Bonollo (Italy), Derivados Vinicos (Argentina), Industrias Vinicas (US), and Tártaros Gonzalo Castelló (Spain).