Cryogenic Equipment Market New Revenue Pockets:
The global cryogenic equipment market is projected to reach USD 17.1 billion by 2025 from an estimated USD 12.6 billion in 2020, at a CAGR of 6.4% during the forecast period. Rising demand for LNG across regions is creating demand opportunities for cryogenic equipment. Also, the increasing number of air separation units projects are driving the cryogenic equipment market. However, cryogenic equipment is feasible for large scale applications only.
Key Market Players
The major players in the global cryogenic equipment market are Linde plc (Ireland), Chart Industries (US), Parker Hannifin (US), Flowserve Corporation (US), Emerson (US), Air Products (US), INOXCVA (India), Taylor Wharton (Japan), Cryofab (US), Wessington (UK), ACME (US), and Herose GmbH (Germany), Cryostar (France), and Cryoquip LLC (US).
Download PDF Brochure – https://www.marketsandmarkets.com/pdfdownloadNew.asp?id=735  
North America is estimated to be the second-fastest market for cryogenic equipment during the forecast period. The cryogenic equipment market in this region is expected to be driven primarily by the demand from the energy & power sector. The shale boom and the electronics manufacturing in the US, the growing chemicals and plastics sectors in Canada, and demand from onshore and offshore fields in the Gulf of Mexico are expected to foster the growth of the cryogenic equipment market in the region.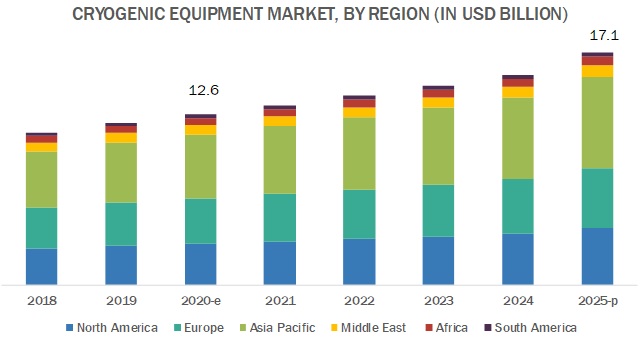 This research report categorizes the cryogenic equipment market based on equipment, cryogen, end-user, and region.
Based on equipment, the market has been segmented as follows:
Tanks
Valves
Vaporizers
Pumps
Others (Others include all other cryogenic equipment such as Pipe, Regulator, Freezer, Dewar, Strainer, Sampler, Heat Exchangers, Leak Detection Equipment, and Accessories)
Based on the Cryogen, the market has been segmented as follows:
Nitrogen
Argon
Oxygen
LNG
Others (Helium, Nitrous Oxide, Hydrogen, and Carbon Dioxide)
Based on end-user, the market has been segmented as follows:
Energy & power
Chemicals
Metallurgy
Electronics
Shipping
Others (Food & Beverage, Healthcare, Aerospace, and Rail Transport)
Based on the region, the market has been segmented as follows:
North America
Asia Pacific
South America
Europe
Middle East
Africa
Vaporizers is the new revenue pocket in cryogenic equipment. The vaporizers are generally designed for customer station, distribution, and plant back up applications. The maximum available working pressure ranges from 40bar to 400bar for most of the vaporizers. It can also reach up to 1000bar depending upon the type and application. The vaporizers are typically made using aluminum material of different grades for different parts. An automatic switching system is a recent technology that allows switch-over to alternative vaporizer if the previous one has become inefficient due to frost build-up. It has wide applications in welding, environmental technology, water treatment, food processing, medical, energy, and electronic industry.
Request FREE Sample Pages – https://www.marketsandmarkets.com/requestsampleNew.asp?id=735
Liquefied oxygen seeks high application from the metallurgy industry as it is the most required gas for ignition and combustion purposes. According to the World Steel Association, in 2019, 72% of the steel production was done through oxygen. As the demand for steel increases, the demand for oxygen is likely to grow, further creating demand for oxygen-related cryogenic equipment. Similarly, Aerospace applications are increasing in the Asia Pacific region, with countries such as India and Russia venturing more into the space cryogenic engines. These engines have many advantages over conventional engines, hence they can be considered as one of the emerging market opportunities. Thus, increasing space missions also create opportunities for oxygen-related cryogenic equipment in the near future.
Browse related reports:
Cryogenic Pump Market by Type (Centrifugal, Positive Displacement), by Gas (Nitrogen, Oxygen, Argon, LNG, and Others), by End-User (Energy & Power, Chemicals, Metallurgy, Electronics, and Others), & by Region – Global Trends & Forecasts to 2021