Cybersecurity is the top priority for enterprises of all sizes. It is the process of protecting networks, computers, hardware, software, and data from threats and vulnerabilities, such as ransomware, zero-day attacks, and other cybercrimes. Advanced cybersecurity solutions provide comprehensive protection from malicious activities.
The global cybersecurity market growth is driven by factors such as strict directives for data privacy, increasing usage of web and mobile-based applications across industry verticals, and growing threat landscape due to the easy availability of third-party software attack tools. Due to the integration of multiple cybersecurity solutions to deliver holistic protection from sophisticated cyber-attacks, the demand for cybersecurity solutions in emerging markets such as Asia Pacific (APAC) and Middle East and Africa (MEA) is expected to grow rapidly. MarketsandMarkets forecasts the global cybersecurity market to reach USD 248.26 billion by 2023, at a Compound Annual Growth Rate (CAGR) of 10.2% during 2018–2023.
Organizations across sectors are implementing cybersecurity to ensure real-time protection and maintain a secure network infrastructure. There are 2 specific aspects of the security industry that have great opportunities for cybersecurity: firstly, the growing need for cloud-based security solutions among Small and Medium-sized Enterprises (SMEs) and secondly, leveraging AI, machine learning, and blockchain technologies for cyber defense. Thus, organizations are rapidly adopting cybersecurity to access valuable insights that would protect their critical business applications from advanced threats and vulnerabilities.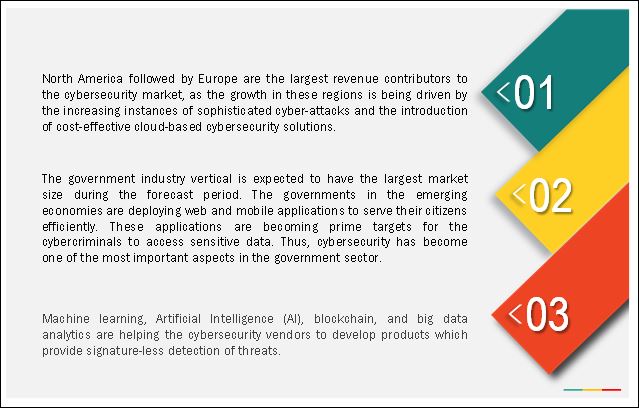 The emergence of disruptive technologies, such as the Internet of Things (IoT), across industry verticals has created new opportunities for prominent cyber-attackers, which is forcing organizations to adopt advanced cybersecurity solutions. Moreover, many organizations deliver their services through web and mobile applications. The security of these devices from advanced threats is the prime objective of organizations. Thus, the application security type is expected to grow at the highest CAGR during the forecast period.
The need of organizations to comply with stringent regulatory mandates across the globe is driving the growth of managed services in the cybersecurity market. Thus, the managed services segment is expected to grow at a higher CAGR during the forecast period.
The healthcare industry vertical is witnessing the fastest growth, due to the proliferation of digital medical devices and the need to protect these devices from malicious attacks. Healthcare organizations face several challenges, such as maintaining the privacy of Electronic Health Record (EHR) and meeting various compliances set by the Health Insurance Portability and Accountability Act (HIPAA). Thus, the cybersecurity market in the healthcare industry vertical is expected to grow at the highest CAGR during the forecast period.
The region-specific analysis of the cybersecurity market includes industry trends, market potential, and market forecasts on the basis of components, solutions, services, security types, deployment modes, organization size, and industry verticals. The market is expected to witness rapid growth in various emerging regions, such as APAC, MEA, and Latin America. North America is expected to have the largest market share for the next 5 years, followed by Europe. APAC is expected to be the fastest growing region in the global cybersecurity market during the forecast period.
Globally, cybersecurity adoption is increasing, due to the rise in security breaches and cyber terrorism targeting enterprises. IBM (US), Check Point (US), Cisco (US), CyberArk (Israel), F5 Networks (US), FireEye (US), Forcepoint (US), Fortinet (US), Amazon Web Services (US), Oracle (US), Palo Alto Networks (US), Imperva (US), Qualys (US), RSA Security (US), F-Secure (Finland), McAfee (US), Micro Focus (UK), Microsoft (US), Proofpoint (US), Rapid7 (US), Sophos (UK), Splunk (US), Symantec (US), Trend Micro (Japan), and Juniper Networks (US) are the key vendors offering cybersecurity solutions across the globe.
Buy a Report @ https://www.marketsandmarkets.com/Purchase/purchase_reportNew.asp?id=505