The non-thermal pasteurization market is estimated to account for about USD 1.1 billion in 2018 and is projected to reach a value of about USD 2.7 billion by 2023, at a CAGR of 19.8%. The growth of the convenience food sector, which includes products such as frozen foods and ready-to-eat foods, has increased the demand for non-thermal pasteurization, as these technologies reduce the processing time and increase the production capacity to meet the growing market demand. However, high capital investment is hampering non-thermal pasteurization market growth.

By food form, the solid segment is estimated to have a larger market share in the forecast period. This is due to the usage of non-thermal pasteurization techniques in food products such as cheese, jellies, jam, processed food, meat products, etc. However, various technologies such as HPP and PEF are used to enhance the extraction of several bioactive components and sugars to preserve the food for a longer period of time.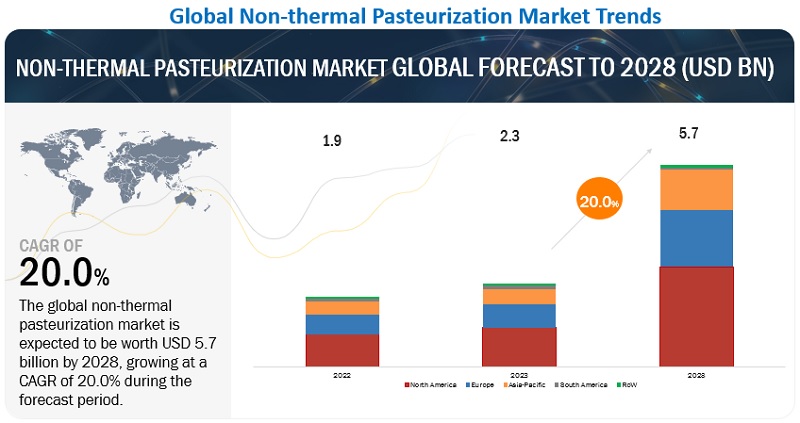 By application, the beverages segment is estimated to grow at the highest CAGR during the forecast period. Non-thermal processes such as PEF and HPP are increasingly preferred in the beverage industry, as they effectively increase the shelf life of beverages and prevent microbial development. Additionally, colors, flavors, and nutrients can be efficiently preserved with the help of this technology. This technology helps in preserving nutrient, color, and flavor in products; and also enables gentle preservation of beverages at ambient temperature. Thus, these factors are expected to fuel the market growth.

The key players in this market include Hiperbaric Espana (SPAIN), Avure Technologies (US), Thyssenkrupp AG (Germany), Kobe Steel Ltd (Japan), Bosch (Germany), Chic Freshertech (US), Elea Technology (Germany), Pulsemaster (Netherlands), Nordion (Canada), Multivac Sepp Haggenmuller SE & CO. KG (Germany), Stansted Fluid Powder Ltd (UK), Symbios Technologies (US), Dukane Corporation (US), Gray*star (US), and Universal Pure (US).