Drip Irrigation Market in the Developing Regions is Well-Positioned for Strong Growth in the Coming Years
The Drip irrigation Market is estimated to be valued at USD 5.2 billion in 2022 and is projected to reach USD 8.3 billion by 2027, recording a CAGR of 9.8% during the forecast period in terms of value.
Drip irrigation is increasing in popularity among growers, as it helps in transferring water to the roots of the plant where it is needed, at the correct volume, and without a lot of waste due to wind, runoff, overspray, and evaporation. Drip systems use between 20%-50% less water than traditional sprinkler systems. In addition to distributing water, drip irrigation systems can also distribute fertilizer, allowing the nutrients to be delivered to plants with minimal labor expense and workforce chemical exposure.
Asia Pacific accounted for the largest share in the global drip irrigation market. The drip irrigation system is rapidly gaining popularity all over the world, particularly in those areas of developed countries, where water is a scarce resource. According to the International Commission for Irrigation and Drainage (ICID) data, India, China, the US, Italy, Brazil, South Africa, and Mexico are some of the major markets for drip irrigation.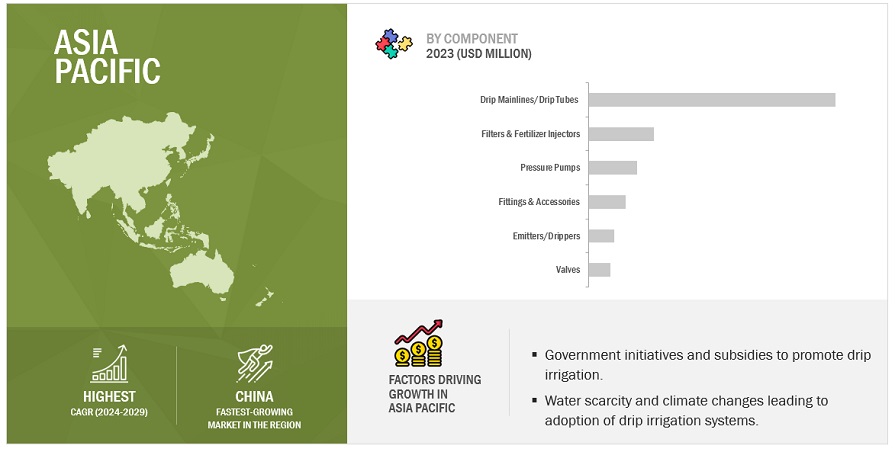 Drip-irrigated areas have increased four times in the last 10 years. This expansion is mostly driven by the increasing demand among farmers and industries. This trend is quite difficult to monitor, and obtaining precise information on the actual drip irrigation extent has always remained a challenge.
Moreover, In Asia, irrigation, in combination with inputs such as fertilizers, pesticides, and agricultural machinery, played a significant role during the green revolution. The growth in the agriculture sector and the introduction of favorable government policies and improved availability of credit facilities in countries such as India and China in the Asia Pacific are factors driving the growth of the drip irrigation market.
Key players in this market include Jain Irrigation Systems Ltd. (India), Lindsay Corporation (US), The Toro Company (US), Rivulis (Israel), Hunter Industries Inc. (US), Netafim (Israel), DRIPWORKS (US), Irritec S.p.A (Italy), Goldenkey (UAE), KSNM DRIP (India), and Raindrip, Inc. (US).