The distillation systems market is estimated to be valued at USD 6.17 billion in 2018 and is projected to reach USD 7.91 billion by 2023, at a CAGR of nearly 5.1% from 2018. Southeast Asia is a potential market for the distillation systems in various industrial applications due to the growth in the manufacturing sector in the region. The distillation process is used to separate the phases and obtain the pure form of the product. Imposition of regulations for pure products, including water, is projected to fuel the demand for distillation systems.

Europe is projected to witness the fastest growth during the forecast period
Countries such as the UK, France, Italy, Spain, and Russia are among the major markets for distillation systems due to the large number of market players in the beverage, chemicals, and cosmetics industries. In addition, countries such as Germany have paved their way through developments in distillation with the use of vacuum multi-effect distillation systems.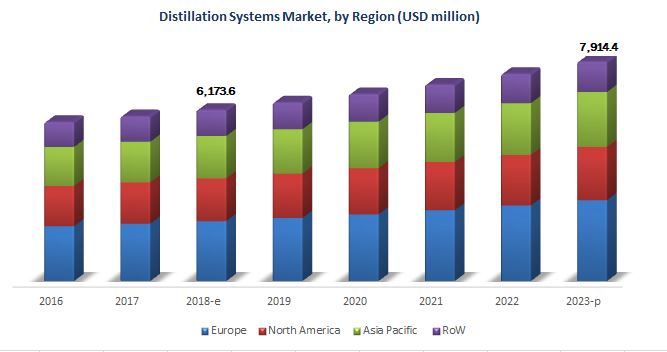 Germany is a leading market player in the distillation systems market; Favorable industrial policies and presence of manufacturers in the country drive the market growth for pots, stills, columns, and turnkey projects in Europe and other international markets.
Various R&D activities have been observed in the distillation systems market pertaining to the advancement of the technologies. The research institutes and companies engaged in distillation technologies have received substantial funding in the recent years for conducting R&D activities and technological advancements. Companies are focusing on investing significantly in the R&D activities to launch new products that can offer process efficiency to their clients.

Leading companies such as GEA (Germany), Alfa Laval (Sweden), SPX FLOW (US), Sulzer (Switzerland), Core Laboratories (Netherlands), PILODIST (Germany), Anton Paar (Austria), Praj Industries (India), L&T Hydrocarbon Engineering (India), EPIC Modular Process Systems (US), BÜFA Composite System (Germany), and Bosch Packaging Technology (Germany).