The report "Fishmeal & Fish Oil Market by Source (Salmon & Trout, Marine Fish, Crustaceans, Tilapia, Carps), Livestock Application (Aquatic Animals, Swine, Poultry, Cattle, Pets), Industrial Application (Fertilizers, Aquaculture, Pharma), and Region – Forecast to 2022″, The global fishmeal & fish oil market is estimated to be valued at USD 9.50 Billion in 2017 and projected to reach USD 14.28 Billion by 2022, at a CAGR of 8.50% from 2017. The market is driven by factors such as a growing trend in fishmeal & fish oil trade and the increasing global demand for quality fish. Moreover, the demand for seafood is increasing in export markets, which influences the supply of improved fishmeal & fish oil for animal production. As a result, many multinational players have entered into the production of various fishmeal & fish oil products that provide essential nutrients to livestock.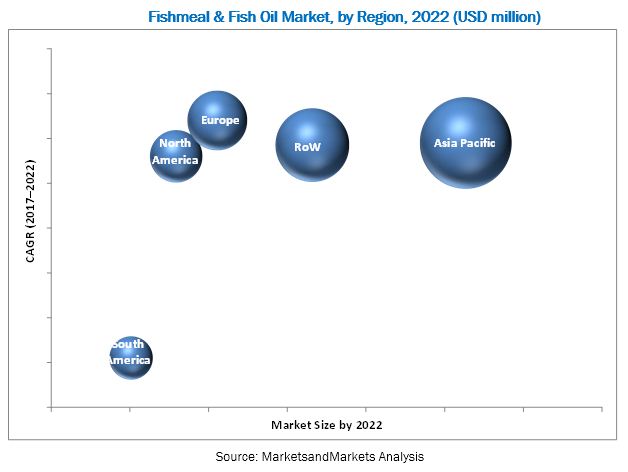 Salmon & trout are a widely used source of fishmeal & fish oil with a value of USD 2,362.5 million in 2016. This is due to the reason that salmon & trout fish farmers have increased their salmon cultivation to satisfy the growing demand of customers globally. Moreover, fishmeal is used in salmon & trout feed as one of the important ingredients that help to provide essential nutritional supplements to the fish.         
Download PDF Brochure:
https://www.marketsandmarkets.com/pdfdownloadNew.asp?id=52416251
With the rise in aquaculture production, large amounts of fishmeal are diverted from terrestrial livestock feed to aquatic feed. Fish oil is the principal source of both energy and essential fatty acids ; therefore, its usage in the aquaculture industry has increased. Fishmeal & fish oil offer many benefits to aquatic animals such as improved immunity against diseases, higher survival & growth, and reduced incidences of deformities.
In terms of livestock, the aquatic animals segment accounted for the largest share of the global fishmeal & fish oil market in 2016. The incorporation of fishmeal into diets of aquatic animals helps to reduce pollution from wastewater effluents by providing greater nutrient digestibility. Fishmeal, when added to the feed of aquatic animals, increases feed efficiency and enhances nutrient uptake, digestion, and absorption. This has resulted in an increase in the use of fishmeal & fish oil for aquatic animals.
Make an Inquiry:
https://www.marketsandmarkets.com/Enquiry_Before_BuyingNew.asp?id=52416251
High growth has been observed in Europe for the fishmeal & fish oil market over the last few years. The main reason for this growth is the increasing demand for fishmeal & fish oil due to increased demand for fish-based food. The leading companies in Europe are focusing on launching new products for expansion of their business in local and international markets. In addition, the EU imports a wide variety of aquaculture species and products. Norway and Germany constituted the largest country-level markets in the European region in 2016.
This report includes a study of marketing and development strategies, along with the product portfolio of leading companies. These companies include FMC Corporation (U.S.), Austevoll Seafood ASA (Norway), Croda International Plc (U.K.), Oceana Group Limited (South Africa), and Omega Protein Corporation (U.S.); these are well-established and financially stable players that have been operating in the industry for several years. Other players include Sürsan (Turkey), The Scoular Company (U.S.), GC Rieber Oils (Norway), Marvesa (The Netherlands), and TASA (Peru).