The global chicory market size is estimated to be valued at USD 685  million in 2020 and is projected to reach USD 905 million by 2025, recording a CAGR of 5.7%.
The millennials prefer consuming these food and beverage that offer health benefits and are organic in nature, due to factors such as busier lifestyles, rising disposal incomes, growing awareness regarding preventive healthcare measures, and maintaining better health. Other factors driving the demand for these chicory include the growing applications of chicory, specially in cosmetic & personal care industry in developing and underdeveloped countries, owing to its anti-inflammatory and anti-oxidants properties.
Chicory, or Cichorium intybus, is a woody, herbaceous plant in the dandelion family. It usually has bright blue flowers, though they can sometimes be white or pink. Chicory is cultivated for its leaves and its roots. Chicory root is also a good source of inulin, a type of prebiotic fiber that has been linked to support weight loss and improved gut health.
Several studies have shown that supplementing diets with inulin could increase the concentration of certain strains of healthy bacteria in the colon and manage blood sugar levels. Hence, all these beneficial qualities make chicory a healthier alternative to various ingredients across various applications, including food & beverages, dietary supplement, feed & pet food, and cosmetics & personal care, exhibiting a good market potential across the globe in the few coming years.

On the basis of application, the food & beverage segment is expected to hold the majority share and grow at the fastest rate in the global chicory market.
The chicory plant is quite versatile, and it has found its application in many areas; it is best known for its association with coffee. Chicory is primarily an organic and all-natural ingredient and a cheaper substitute to an array of ingredients in the food & beverage industry. It is mainly consumed as blends or alternative in caffeine-containing beverages such as coffee, which is largely consumed across the globe. The young leaves can be used in salads, and the root can be boiled and eaten like a vegetable. Thus, finding its most important and wide application in the food & beverage industry, the market is expected to grow at a substantial rate during the forecast period.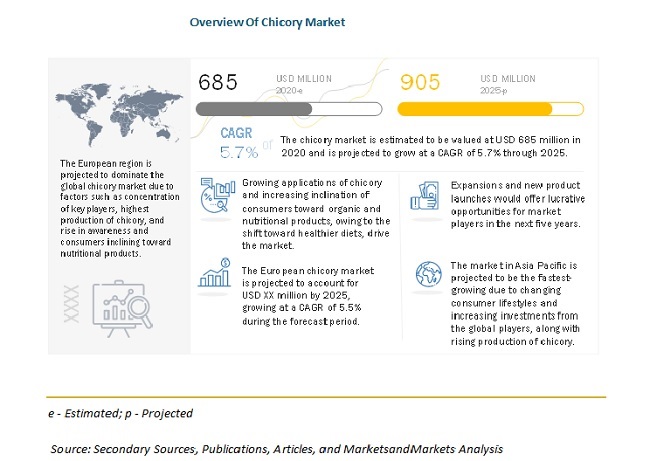 A variety of trends have driven the use of chicory root fiber not only in food & beverage applications but also in other areas like in dietary supplements, pet food, cosmetics, and pharmaceutical industries. In the food and beverage industry, one of the present significant trends is in sugar reduction. Chicory root fiber can assist with sugar reduction by helping with flavor and texture.
Chicory leaves and roots have been used for salads and in the preparation of various innovative and tasty recipes. Chicory is a nutritional powerhouse, containing vitamin K, A, C, and a long list of the B group vitamins. It is an excellent source of minerals like manganese, copper, iron, and potassium. The roots of chicory contain inulin fiber, a type of prebiotic that promotes the growth of beneficial bacteria in the gut; this is used widely as a dietary supplement.

Key Market Players:
Cosucra Groupe Warcoing (Belgium), Delecto Foods Pvt Ltd (India), BENEO GmbH (Germany), Sensus (Netherlands), Leroux (France), Cargill Incorporated (US), Reily Foods Company (US), Pioneer Chicory (India), PMV Nutrient Products Pvt Ltd (India), Farmvilla Food Industries Pvt Ltd (India), Murlikrishna Foods Pvt Ltd (India), Starwest Botanicals (US), STOKROS Company Ltd (Russia), Nature's Gold Production (Netherlands), Organic Herb Trading Co (UK), Narasu's Coffee Company (India), NP Nutra (US), Shaanxi Sciphar Natural Product Co Ltd. (China), Jamnagar Chicory Industries (India), and Herbs & Crops Overseas (India).