The key factors driving the demand for essential oil include growing research & development activities, increasing demand for food & beverage and cosmetic applications, and increasing demand for aromatherapy. Growing research & development activities and increased demand from food & beverage and cosmetic applications are also driving the market.
The global essential oils market size is expected to scope USD 11.19 Billion by 2022 growing at a CAGR of 8.83% from 2017 to 2022. The shifting trend towards preventive healthcare, coupled with an improved standard of living among consumers, are the major factors driving the market.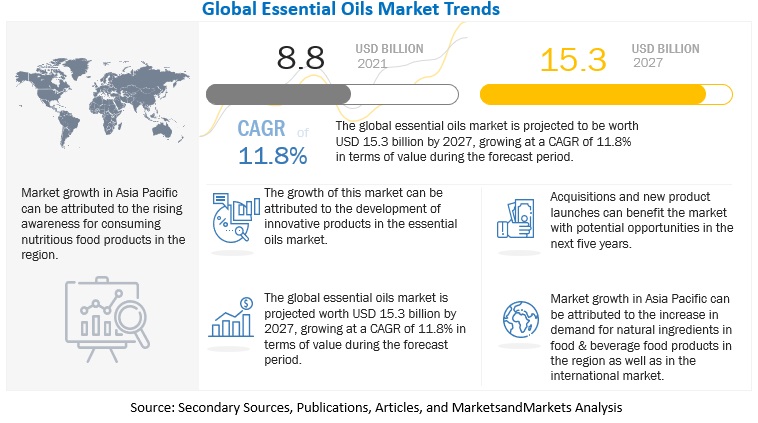 Growing awareness towards preventive healthcare, increasing double-income households, a rise in depression and anxiety cases, increasing demand for aromatherapy, and an increase in end-use applications of essential oils are some of the factors driving the demand for these oils.
Lemon is the fastest-growing market as it is used for both dietary and non-dietary purposes in various regions. The major importer of lemons worldwide is the U.S., due to the growing demand from customers for essential oil products. The growing demand for lemon oil worldwide is attributed to its health benefits, which has encouraged manufacturers to produce essential oil products for different end-use applications such as food & beverages, health care, and aromatherapy.
Explore In-depth Insights: https://www.marketsandmarkets.com/Market-Reports/essential-oil-market-119674487.html
The food & beverage segment is projected to be the largest market for essential oil. Various essential oils used by the manufacturers include orange oil, lemon oil, lime oil, peppermint oil, citronella oil, clove leaf oil, among others. They are used in food & beverages for imparting flavor to the final products, as substitutes for synthetic ingredients. The major factor boosting the growth of the market is the increasing preference of natural and organic food products by the consumers.
Significant growth for essential oil is observed in the Asia-Pacific region
The Asia-Pacific region is segmented into China, Japan, India, Australia & New Zealand, and Rest of Asia-Pacific. The increase in preference of consumers for natural essential oil ingredients such as peppermint & spearmint and rise in purchasing power parity in the region is driving the demand for essential oils in applications such as aromatherapy, health care, and food & beverages.
This report includes a study of marketing and development strategies, along with the product portfolio of leading companies in the essential oils market. It includes the profiles of leading companies such as Cargill (U.S.), E.I. du Pont de Nemours and Company (U.S.), Koninklijke DSM N.V. (Netherlands), and Givaudan SA (Switzerland).
Cargill
Cargill's key business operating segments include agri trading and processing; food ingredients & products; meat, poultry & eggs; farmer services; animal feed & nutrition; energy & nutrition; and financial. It offers a broad range of essential oils under animal feed & nutrition, which include feed additives such as cinergy, prohacid, nectarom, and biacid. To strengthen its business in the essential oil market, the company has adopted strategic investments; for instance, in 2013, Cargill launched a new product in feed additives segment to broaden the animal nutrition segment, which enabled the company to expand its essential oil market.
E. I. du Pont de Nemours and Company
E. I. du Pont de Nemours and Company, commonly known as DuPont, is a science- & technology-based company providing innovative products, materials, and services. The company operates through different business segments, namely, agriculture, food & personal care, electronics & communications, industrial biosciences, nutrition & health, performance chemicals, performance materials, safety & protection, and pharmaceuticals. The company's nutrition & health segment comprises the specialty food ingredients business of Danisco A/S (Denmark). The segment offers essential oils compounds under the essential oil feed solution segment, which include compounds comprising optimized, high-concentration blends of thymol and cinnamaldehyde; these have been shown to stimulate feed intake & digestion, improve body weight, and offer healthy performance benefits.
Key Region Essential Oils Market:
North America
Europe
Asia-Pacific
ROW
Feel Free To Talk With Our Expert: https://www.marketsandmarkets.com/speaktoanalystNew.asp?id=119674487