The Report "Glufosinate Market by Crop Type (Genetically Modified Crops, Conventional Crops), Form (Liquid Formulation, Dry Formulation), Application (Agricultural, Non Agricultural), and Region – Global Forecast to 2022″, is projected to reach USD 2.34 Billion by 2022. The glufosinate market is estimated to be valued at USD 1.37 Billion in 2016, and is projected to grow at a CAGR of 9.25% from 2016 to 2022. Glufosinate are widely accepted in agricultural and non-agricultural applications and play a vital role in weed controlling. Its usage is growing in recent years because it is considered as a suitable substitute for glyphosate and paraquat.  The proportion of glyphosate-resistant weeds has been growing over the past few years because of its extensive usage.  Farmers consider glufosinate as a better alternative in the non-selective herbicides market to protect and maintain crop yield. Furthermore, the USFDA considers glufosinate as a safer option compared to other herbicides available in the U.S. market such as paraquat. Hence, glufosinate should be viewed as a business opportunity in the next five years.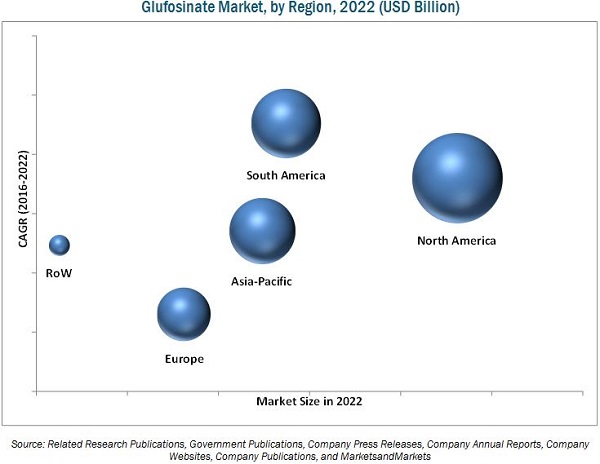 The years considered for the study are as follows:
Base year: 2015
Estimated year: 2016
Projected year: 2022
Forecast period: 2016 to 2022
The forms of glufosinate considered for the study are liquid and dry. Liquid formulation of glufosinate is widely used as it has low temperature stability as compared to dry formulations, which has a long process of usage.
Download PDF Brochure:
https://www.marketsandmarkets.com/pdfdownloadNew.asp?id=191789620
Genetically modified crops segment, with respect to crop type, is projected to dominate the glufosinate market
The usage of genetically modified crops is increasing because of its cost-effective characteristic. Genetically modified crops have wide usage applications for glyphosate and glufosinate for weed controlling purposes. Herbicide-tolerant crops consistently occupied the largest planting area of biotech crops. Increase in the area under cultivation of herbicide-tolerant crops will drive growth in glufosinate market since glyphosate-resistant weeds are gradually growing across regions.
North America: Lucrative market for opportunities for glufosinate
The North American region dominated the market and accounted for the largest share, in terms of both value and volume, in the global glufosinate market, in 2015. The North American market is projected to grow at a CAGR of 9.60% from 2016 to 2022. Factors such as increasing acreage under glufosinate-tolerance crops, and resistance development to glyphosate herbicide products in countries of the North American region are driving the growth of the glufosinate market.

This report includes a study of marketing and development strategies, along with the product portfolios of leading companies. It includes the profiles of leading companies such as Bayer AG (Germany), The Dow Chemical Company (U.S.), E. I. du Pont de Nemours and Company (U.S.), Syngenta AG (Switzerland), and UPL (India).
Make an Inquiry:
https://www.marketsandmarkets.com/Enquiry_Before_BuyingNew.asp?id=191789620
Target Audience:
Pesticide manufacturers
Pesticide importers and exporters
Pesticide traders, distributors, and suppliers
Consumers (including farmers)
Government and research organizations
Legislative and regulatory bodies
Associations and industry bodies