The brewing enzymes market was valued at USD 332.2 million in 2017 and is projected to reach USD 484.7 million by 2023, at a CAGR of 6.6% from 2018. The use of enzymes has become increasingly important in the brewing industry, as they accelerate the chemical reaction without a change in their own structure. To enhance the brewing process, commercial exogenous enzymes are used in various steps to make the brewing faster, easier, and more consistent. The demand for brewing enzymes in the beer segment is expected to witness significant growth in the near future, due to the rising popularity of beer consumption among young consumers, rise in technological innovations, and growth in the craft beer segment and number of microbreweries.
The amylase segment is projected to dominate the brewing enzymes market through the forecast period. The growth of this market is proportionally dependent on the production of beer globally. Amylases are mainly used in industries because of their cost-effectiveness, less-time-consuming processes, and less space; it is also easy to modify and optimize the processes involving them. The consumption of amylase is significant in the Asia Pacific and African regions, due to lower access to malt in these regions which will lead to higher demand for amylase.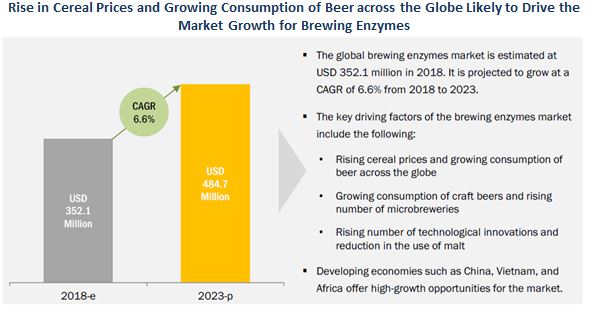 The Asia Pacific region dominated the brewing enzymes market in 2017 and is projected to grow at the highest CAGR from 2018 to 2023. The main countries contributing significantly toward the growth of the market in the region include Vietnam, China, Australia, and New Zealand. The Asia Pacific region is heterogeneous, with diversity in income levels, technology, and demand for quality beer products, leading to enhanced scope for future growth. These factors influence the use of brewing enzymes in the beer and wine segment.
In the European region, the growth of brewing enzymes can be attributed to the increase in the production of wine, flavored beers, and gluten-free beers. Additionally, the increase in domestic consumption of premium products with better taste and quality also drives the production of beers and wine in Europe. Growth in the craft beer market acts as a major driver for the growth in this market. The increase in the number of craft breweries, the rise in popularity of such beers among consumers, growing awareness about some health benefits of consuming beer, and the increase in disposable income, especially in Western European countries, have fueled the growth of the brewing enzymes market in the region.
The various contributors involved in the value chain of brewing enzymes include manufacturers, suppliers, distributors, importers, and exporters of brewing enzymes for manufacturing beer and wine. The key players in the brewing enzymes market include Novozymes (Denmark), DSM (Netherlands), DowDuPont (US), Amano Enzyme (Japan), Chr. Hansen (Denmark), Associated British Foods (UK), Kerry Group (Ireland), Brenntag (Germany), Enzyme Development Corporation (US), Aumgene Biosciences (India), Biocatalysts (UK), and Enzyme Innovation (US).