The report "Herbicides Market by Type (Glyphosate, 2, 4-D, Diquat), Crop Type (Cereals & Grains, Oilseeds & Pulses, Fruits & Vegetables), Mode of Action (Non-selective, Selective), and Region – Global Forecast to 2022″, The global herbicides market is estimated at USD 27.21 Billion in 2016 and is projected to reach USD 39.15 Billion by 2022, at a CAGR of 6.25% during the forecast period. The market is driven by factors such as adoption of better farming practices and rise in production of cereals & grains, especially in the Asia-Pacific region.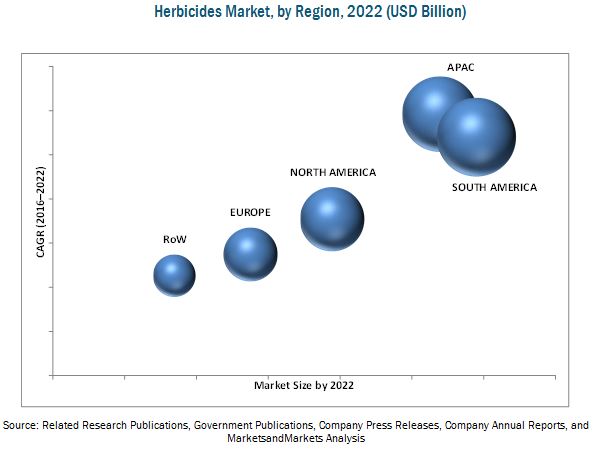 Objectives of the report:
To define, segment, and measure the herbicides market in both quantitative and qualitative terms
To provide an analysis of opportunities in the market for stakeholders through the identification of high-growth segments
To strategically analyze the micromarkets with respect to individual growth trends, future prospects, and contribution to the total market
To understand the industry trends of the herbicides market along with a value chain and supply chain analysis
To provide a strategic profiling of key players in the herbicides market and a comprehensive analysis of their core competencies
To analyze the strategies of key players and developments, such as new product launches & product approvals, mergers & acquisitions and strategic alliances, agreements and collaborations, and investments & expansions
Download PDF Brochure:
https://www.marketsandmarkets.com/pdfdownloadNew.asp?id=357
Herbicides are one of the major crop protection chemicals used for weed control. The herbicides market is segmented on the basis of herbicides type, mode of action, crop type, and region. On the basis of type, the herbicides market was dominated by the glyphosate segment and was followed by diquat and 2,4-D segments in 2015. With increasing use of glyphosate-based products in various forms, such as gel and powder across countries, glyphosate is projected to remain a leading segment. Diquat herbicide accounted for the second largest market share in 2015. Diquat is considered as a substitute for paraquat as both are non-selective contact herbicides and have almost similar chemical properties. Hence, the usage of diquat has increased, particularly in China and other developing economies, after declaring paraquat a restricted use pesticide (RUP) by environmental protection agencies in more than 30 countries.
The herbicides market, based on mode of action, is segmented into non-selective and selective. The non-selective herbicide segment has the largest market share in 2015. As non-selective herbicide is formulated for both, broadleaf and grass weeds, it finds application in most of the vegetation types and is a preferred alternative to selective herbicides. Additionally, with the introduction of GM crops that have herbicide tolerance, the demand for non-selective herbicides is projected to increase during the forecast period
The South American region dominated the herbicides market in 2015. This is due to the emergence of South American countries as agricultural powerhouses, growing above the global growth average. Growth in this region is significantly contributed to by the growth in Brazil and Argentina. Economic growth in South America has been supported by democratization and economic reforms. Availability of arable land and expansion of farmlands, especially in Brazil and Argentina, are driving the growth in this market.
Make an Inquiry:
https://www.marketsandmarkets.com/Enquiry_Before_BuyingNew.asp?id=357
Additionally, the regulatory framework in South America is less stringent as compared to North America and Europe. The Pesticide Action Network (South America) handles regulatory control in the region. T Herbicide products can be registered with minimum resistance from other regulatory agencies in the South American region.
This report includes a study of development strategies, along with the product portfolios of the leading companies in the herbicides market. The key companies profiled are BASF SE (Germany), The Dow Chemical Company (U.S.), E.I. du Pont de Nemours & Company (U.S.), Monsanto Company (U.S.), and Syngenta AG (Switzerland), FMC Corporation (U.S.), Platform Specialty Products Corporation (U.S.), Nufarm Ltd. (Australia), Nissan Chemical Industries Ltd. (Japan), and Drexel Chemical Co. (U.S.).