The HCS service market showcases a lucrative growth potential. This market includes services related to various phases of drug discovery such as target identification and target validation, primary screening, secondary screening and toxicity studies, and compound profiling among others. Among these services, primary screening represents the new revenue pocket for the HCS market.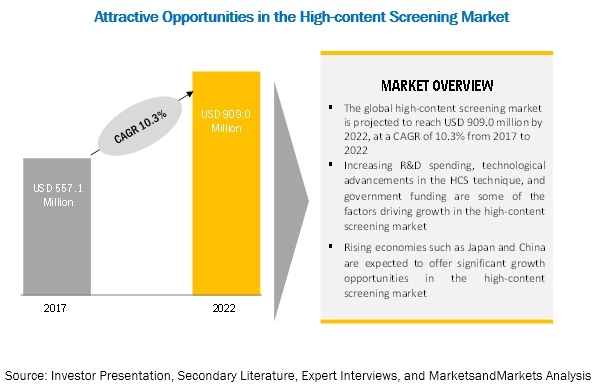 To speak to our analyst for a discussion on the above findings @ https://www.marketsandmarkets.com/speaktoanalystNew.asp?id=42710391
Across the globe, the adoption of high content screening for primary screening is increasing due to factors such as increased throughput, enhanced accuracy, and ease of use. A number of automated HCS instruments are available in the market. Moreover, market players are engaged in developing new automated HCS instruments with higher throughput, which will help the market grow further.
Taking into consideration the growing demand for HCS products, various venture capitalists are now investing in this market. For instance, in November 2011, the Entrepreneurs Fund (U.K.) and Sham (France) invested $10 million in Cytoo SA (France), a company that offers products and services for high content analysis, cell-based assays, and cell screening processes. Furthermore, in October 2011, Kernel Capital invested $1.11 million (€800 thousand) in Biocroi Ltd., a company that develops multi-well microplates for high content screening. In addition, various companies in Europe are focusing on collaborations in order to enhance their expertise in the high content screening technology. For instance, in December 2013, Evotec Technologies (Germany) and QIAGEN (Netherlands) signed an agreement to promote the advantages of combining QIAGEN's RNAi products with Evotec's Opera high content screening platform. This will enable researchers to carry out high-quality gene analysis. All these factors have presented an array of opportunities for the high content screening market to flourish in the coming years.
Growth in the HCS market is likely to be centered on China, Japan, Singapore, and India. Major medical automation players are investing in Asia in order to strengthen their sales and distribution networks in small Asian cities. Moreover, various research studies are being carried out in the Asian region to develop innovative products. For instance, in June 2013, Thermo Fisher Scientific invested $20 million to open a new factory in Suzhou (China), in order to meet the needs of the life sciences customers for laboratory consumables and equipment. Furthermore, new foreign entrants are collaborating with local research institutes to develop and commercialize their products in the Asian market. For instance, in June 2012, GE Healthcare (U.K.) collaborated with BGI (China) to conduct research on stem cell-derived assays for drug discovery and toxicity testing applications. Under this collaboration, GE Healthcare provided its IN Cell Analyzer 2000 system to BGI for high content imaging analysis. Such collaborations are likely to propel the growth of this market in the coming years.
Download PDF Brochure@ https://www.marketsandmarkets.com/pdfdownloadNew.asp?id=42710391
On the basis of application, the high-content screening market is segmented into target identification and validation, primary and secondary screening, toxicity studies, compound profiling, and other applications such as angiogenesis, apoptosis, cell cycle and mitotic index, cell proliferation, endocytosis, protein synthesis, and stem cell differentiation.
Some key players mentioned in the research report are:
GE Healthcare (U.S.), Danaher Corporation (U.S.), Thermo Fisher Scientific, Inc. (U.S.), PerkinElmer, Inc. (U.S.), Tecan Group (Switzerland), BioTek Instruments Inc. (U.S.), Becton, Dickinson and Company (U.S.), Bio-Rad Laboratories (U.S.), Yokogawa Electric Corporation (Japan), and Merck Millipore (U.S.)