Global Hydrogen Generation Market Scenario:
The hydrogen generation market size is expected to grow from an estimated USD 130 billion in 2020 to USD 201 billion by 2025, at a CAGR of 9.2% during the forecast period. Increasing fuel cell power generation application as well as increasing government regulations for desulphurization and greenhouse gas emissions are high growth prospects for the hydrogen generation market during the forecast period.
Key Market Players:
A few major players that have a wide regional presence dominate the hydrogen generation market. The leading players in the hydrogen generation market include Linde (Germany), Air Products & Chemicals (US), Air Liquide (France), Uniper (Germany), and Engie (France).
Download PDF Brochure: https://www.marketsandmarkets.com/pdfdownloadNew.asp?id=494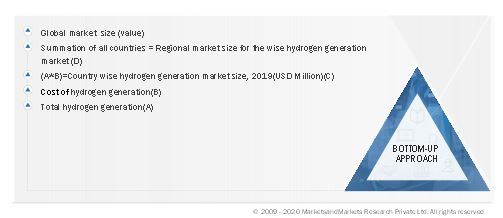 This research report categorizes the hydrogen generation market-based technology, application, source, generation & delivery mode and region:
Based on source:
Blue Hydrogen
Green Hydrogen
Grey Hydrogen
Based on technology:
Steam Methane Reforming (SMR)
Partial Oxidation (POX)
Coal Gasification
Electrolysis
Based on application:
Petroleum Refinery
Ammonia Production
Methanol Production
Transportation
Power Generation
Other Applications
Based on the region:
North America
Asia Pacific
South America
Europe
Middle East
Africa
Rapid rise in demand for Fuel Cell Electric Vehicle (FCEV) in Asia Pacific region is likely to drive the market for hydrogen generation in the coming years. Hydrogen finds its application in various modes of transportation, such as buses, trains, fuel cell electric vehicles (FCEV), and others (including marine, airplane, and drones). FCEVs are powered by hydrogen. They are more efficient than conventional internal combustion engine vehicles and produce no tailpipe emissions; they only emit water vapor and warm air. Fuel cell vehicles use hydrogen to power the electric motor by combining hydrogen and oxygen (from the air) to produce electricity, which runs the motor. This process of converting hydrogen gas into electricity produces only water and heat as byproducts, thus eliminating harmful gaseous emissions. It is expected that fuel cell cars and trucks can reduce emissions by over 30% compared with their gasoline-powered counterparts. Refueling a fuel cell electric vehicle takes less than 10 minutes. Therefore, FCEV vehicles are expected to increase the demand for hydrogen.
Request Sample Pages: https://www.marketsandmarkets.com/requestsampleNew.asp?id=494
Increasing large scale hydrogen production through water electrolysis and natural gas process is expected to drive the merchant segment. Merchant hydrogen can be produced by both water electrolysis and natural gas processes. This method reduces the need for transportation of fuel and, subsequently, the need for construction of new hydrogen generation infrastructure. However, its limited production capacity leads to higher hydrogen costs compared with captive hydrogen generation. Small-scale reformers and existing natural gas pipelines are generally employed by merchant hydrogen producers to supply hydrogen to customers on-site. Hydrogen is generated at offsite refineries and refueling stations using either natural gas or water and electricity. The electrolyzers used for merchant hydrogen generation produce pure oxygen as a by-product along with hydrogen. This oxygen is used to enrich the content of greenhouse gases for food production.