The overall sensor patch market is expected to grow from USD 1.2 billion in 2020 to USD 6.4 billion by 2025, at a CAGR of 40.5%. The growth of this market is mainly driven by the rising demand for portable medical devices and wearable sensors, increasing elderly population, and growing use of sensor patches to monitor glucose level. The growing adoption of telehealth and advancements in wearable solutions and digital technologies provide major opportunities for the growth of the sensor patch market.
The sensor patch market is currently dominated by Abbott Laboratories (US), iRhythm Technologies, Inc. (US), DexCom, Inc. (US), Medtronic PLC (Ireland), Texas Instruments Inc. (US), Proteus Digital Health, Inc. (US), Gentag, Inc. (US), Kenzen, Inc. (US), VitalConnect, Inc. (US), and Preventice Solutions, Inc. (US). Several major companies have adoptedboth organic and inorganic growth strategiessuch asproduct launches, collaborations, contracts, acquisitions, partnerships, agreements, and joint ventures toincrease their revenue.
Ask for PDF Brochure:
https://www.marketsandmarkets.com/pdfdownloadNew.asp?id=50239064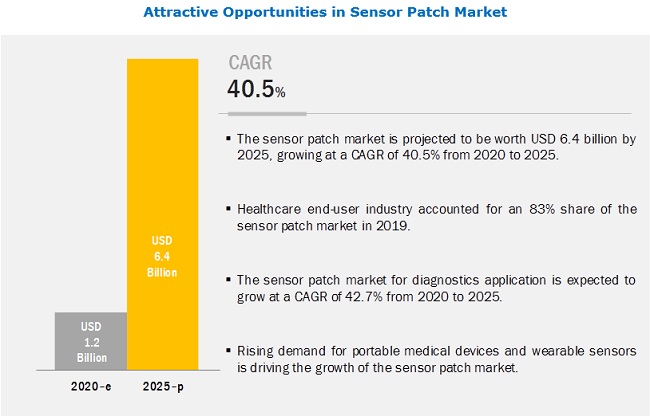 Top 2 players in the sensor patch market
Abbott Laboratories (US) is one of the healthcare leaders that helps people live more fully at all stages of life by offering life-changing technologies with leading businesses and products in diagnostics, medical devices, nutritionals, and branded generic medicines worldwide. To maintain its leadership position in the global sensor patch market, the company focuses on acquisitions and new product launches. In July 2017, the company collaborated with Bigfoot Biomedical Inc. (US), a leading player in diabetes management. With this collaboration, both companies will be working together for the development of the Freestyle Librewearable patch to diversify its application areas. In September 2017, the company acquired Alere Inc. (US), a leading point-of-care diagnostics company, to expand its global presence.
DexCom, Inc. (US) is a leading medical devices manufacturing company that develops and markets continuous glucose monitoring (CGM) products and tools for adult and pediatric people with diabetes. The company operates under one single segment offering G6 sensor and G6 Mobile systems that include a reusable transmitter, a receiver, disposable sensors, and mobile applications. To maintain its competitive position in the market, the company has adopted inorganic growth strategiessuch as partnerships and collaboration. For instance, in June 2019, the company collaborated with Companion Medical, Inc. (US) to enable a direct exchange of CGM data from Dexcom with insulin data from InPen into both companies' software applications. The focus on this strategy is likely to help the company increase its share in the sensor patch market.