The report "Pest Control Market by Pest Type (Insects, Rodents, Termites, Wildlife), Control Method (Chemical, Mechanical, Biological), Mode Of Application (Sprays, Traps, Baits), Application (Residential, Commercial, Industrial), Region – Global Forecast to 2025″ The global pest control market is projected to reach USD 27.5 billion by 2025, at a CAGR of 5.04% from 2019 to 2025.

The rise in the popularity of pest control solutions can be attributed to the increasing scope of urbanization in developing markets and the emergence of megacities, which host over 15-20 million residents. Markets such as China and India are among the key markets targeted by pest control service providers and pesticide suppliers due to their high population density and a large middle-class population that is adopting pest control services in the region.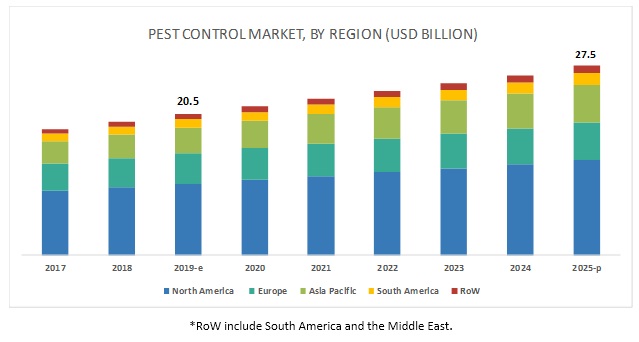 Report Objectives:

To describe and forecast the pest control market, in terms of control method, pest type, application, mode of application, and region
To describe and forecast the pest control market, in terms of value, by region—Asia Pacific, Europe, North America, South America, and the Rest of the World—along with their respective countries
To provide detailed information regarding the major factors influencing market growth (drivers, restraints, opportunities, and challenges)
To strategically analyze micromarkets, with respect to individual growth trends, prospects, and contributions to the overall market
To study the complete value chain of pest control
To analyze opportunities in the market for stakeholders by identifying the high-growth segments of the pest control ecosystem
To strategically profile key players and comprehensively analyze their market positions in terms of ranking and core competencies, along with detailing the competitive landscape for market leaders
To analyze strategic approaches such as acquisitions and divestments; expansions and investments; product launches and approvals; agreements; and collaborations and partnerships in this market
Download PDF Brochure:
https://www.marketsandmarkets.com/pdfdownloadNew.asp?id=144665518
Multiple use and easy application is driving the market for Traps .
Traps are among the more popular solutions as they are inexpensive and can often be used multiple times. While most of these traps require manually handling, there have been developments with respect to a newer generation of traps that employ a higher degree of digital components. Modern rodent management systems such as the Rodent Monitoring System (RMS) from Bayer incorporates radio signals and server commands that inform the facility manager when a rodent is caught. Traps are also available for a wide array of wildlife pests including small mammals, rodents, reptiles, and large mammals.
Increasing rates of urbanization and growing the middle-class population drive pest control demand in residential applications.
The pest control market is segmented on the basis of application into commercial, residential, livestock, industrial, and others. The residential segment is witnessing a surge in demand for pest control services for the containment of cockroaches, bed bugs, mosquitoes, and termites. Dust control is recommended for residential areas and home applications. Baits are also used for indoor and outdoor applications in residential areas. In addition, insecticide aerosols are recommended for small buildings or nearby areas. The common forms of pests found in the residential areas include rodents, cockroaches, termites, bed bugs, ticks, lice, and wildlife pests such as raccoons, opossums, moles, and gophers. The available solutions for residential areas include chemical spraying, baits, and aerosols. In cases of high levels of infestation, fumigation is used to exterminate the pests.
Speak to Analyst:
https://www.marketsandmarkets.com/speaktoanalystNew.asp?id=144665518
North America is projected to account for the largest market size during the forecast period
The North American pest control market is projected to be the largest between 2019 and 2025, while the Asia Pacific market is projected to grow at the highest CAGR. North America was the largest consumer of pest control in 2018. It is still the largest market for pest control, with more than 50% of the market share. There are over 20,000 pest control companies in North America, with an average of six technicians in each company. The strengthening of the housing market and a steadily improving economy have led to increased investments in both residential and commercial properties.
Key Market Players:
The key service providers in this market include Terminix (US), Ecolab (US), Atalian Servest (France), Truly Nolen (US), Rollins Inc. (US), Rentokil Initial Plc (UK), and Ecolab (US). The pesticide suppliers in the pest control market include Bayer CropScience (Germany), BASF (Germany), Syngenta AG (Switzerland), Sumitomo Chemicals Co. Ltd. (Japan), Adama (Israel), FMC Corporation (US), DowDuPont (US), PelGar International (UK), and Bell Laboratories (US). These players are undertaking strategies such as new product developments and launches and divestments to improve their market positions and extend their competitive advantage.