The global agricultural pumps market size is estimated to grow from USD 4.2 billion in 2020 and is projected to reach USD 6.1 billion by 2025, at a CAGR of 7.6% during the forecast. The increasing adoption of modern techniques of irrigation in developing countries, the advent of big data in agricultural farms, and the increase in government support toward the adoption of modern agricultural equipment are some of the factors driving the growth of the market.
The rotodynamic segment, by type, is estimated to witness a higher demand. Increasing the adoption of modern techniques for irrigation in developing countries is leading to increased demand for rotodynamic pumps.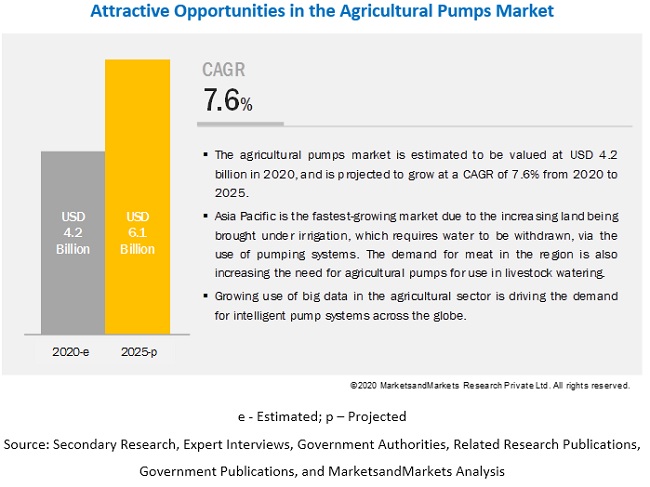 Based on hp, the market has been classified into 0.5 -3, 4-15, 16-30, 31-40, and > 40.  The demand for pumps in the range of 4-15 hp is the highest due to their growing adoption in small and medium-sized landholdings. They are used to withdraw water from sources, such as reservoirs and lakes.
By end-use, the market is segmented into irrigation and livestock watering. The agricultural sector makes use of pumps, majorly for application in irrigation. With the growing area being brought under irrigation, the market for pumps for use in irrigation is growing. With the meat consumption growth across the regions, the need for agriculture pumps in the livestock watering sector is also growing.

Asia Pacific accounted for the largest share in the global agricultural pump industry due to the increasing land being brought under irrigation. The agricultural ministries of countries such as China and India are providing subsidies for solar and electric pumps, which is also one of the factors that are driving the growth of the market.
Key participants in the global market include Grundfos (Denmark), Xylem Inc (US), KSB SE & Co. (Germany), Flowserve Corporation (US), Lindsay Corporation (US), Valmont Industries (US), and Jain Irrigation Systems (India).