The market for textured soy protein is estimated at USD 1.73 Billion in 2017 and is projected to grow at a CAGR of 9.5% from 2017 to 2022. The textured soy protein market is driven by factors such as the high nutritional value of soy and initiatives undertaken by the government and regulatory bodies to increase consumer awareness. As a result, the protein-enriched food products market is booming, with infant nutrition and meat alternative products being identified as preferred carriers of protein fortification. 
Opportunity: Increase in soybean production and consumption in emerging markets
Changing lifestyles and the shift from processed food to healthy food products has been observed in developing economies over the past decade, leading to the growth in demand for textured soy proteins, not only for food products but also for applications such as animal feed, cosmetics, and personal care products.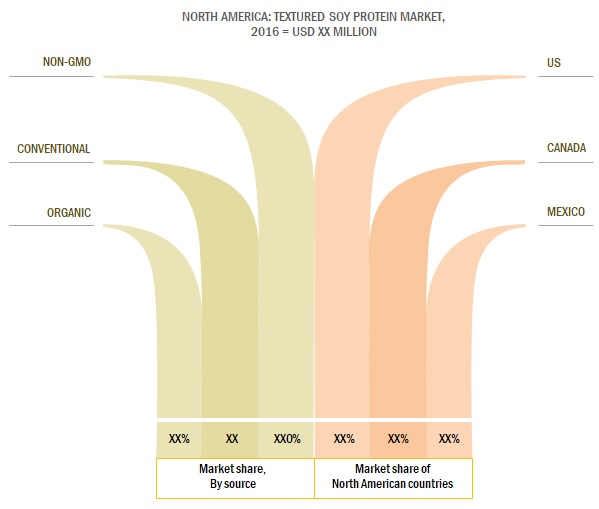 The demand for textured soy protein is high in developed markets such as the US and Europe. The trend of consumer preference for healthy products is rising, wherein marketing campaigns are planned for highlighting their use and health benefit claims. Developing countries such as China and India are projected to experience an increase in demand for textured soy protein in the coming years from these regions. The Asia Pacific region provides a cost advantage in terms of production and processing. High demand, coupled with low cost of production, would aid the suppliers, subsequently driving the growth of the market in the region.
Countries such as India, lack in post-harvest management techniques and lack in an efficient supply chain. However, the increase in per-capita income and consumers' buying capabilities are expected to drive the growth of the textured soy protein market over the next few years.

Key players are ADM (US), Cargill (US), DowDuPont (US), Wilmar International (Singapore), Victoria Group (Serbia), Bremil Group (Brazil), Linyi Shansong Biological Products (China), Shandong Yuxin Bio-Tech (China), Crown Soya Protein Group (China), Sonic Biochem (India), and Hung Yang Foods (Netherlands).