Global Light Towers Market Overview:
The global light towers market size is projected to reach USD 5.7 billion by 2025 from estimated revenue of USD 4.3 billion in 2020, at a CAGR of 5.7% during the forecast period. North America is expected to be the largest light towers industry, followed closely by Europe and Asia Pacific. The North America region is also projected to be the fastest-growing market during the forecast period. The rising demand for light towers in end-use sectors such as construction, mining, oil & gas, and events & sports is expected to fuel market growth.  
Download PDF Brochure:https://www.marketsandmarkets.com/pdfdownloadNew.asp?id=227191154
The light towers market is served by a mix of large international players with their presence and capabilities across different regions as well as local players that have a strong foothold in the domestic markets. The key players operating in the market include Generac Holding (US), Terex Corporation (US), Doosan Portable Power (US), Wacker Neuson (Germany), Atlas Copco (Sweden), and United Rental (US).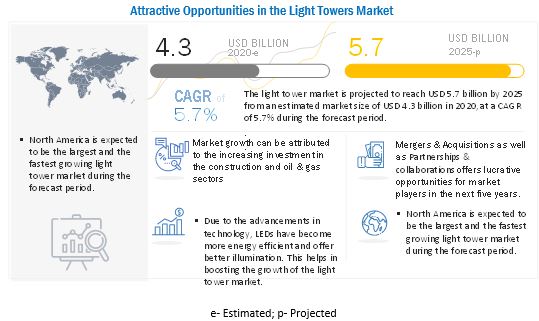 The major strategies adopted by the players in the light towers market include contracts & agreements, new product launches, and mergers & acquisitions. Mergers & acquisitions was the most commonly adopted strategy from 2016 to 2020. Contracts & agreements have also emerged as a key strategy, as companies look to strengthen their service offerings and geographic market reach by offering their product.
Generac Holding (US) is one of the leading providers present in the global light towers market. the company offers various equipment such as light towers, generators, pumps, and heaters, among others. It caters to the needs of residential, commercial and industrial sectors. The company operates through three business segments namely, residential products, commercial & industrial products, and others. It offers light towers through its commercial & industrial products business segment. In July 2018, Generac Mobile introduced a new product in its light tower offerings, i.e., MLTS LED. The new MLTS LED light tower provided powerful, even lighting, simplified controls, and low maintenance requirements for maximized profit. The product boasts LED lights with a 10–year life expectancy.
United Rentals (US) is another significant player in the global light towers market. Additionally, it is one of the largest equipment rental companies in the world. The company operates majorly in reports revenue in two business segments, namely, general rental and trench power & pump segment. United Rental provides a wide range of light towers with diesel, electric, or solar power option. The company also offers hazardous proof and explosion-proof light towers for oil & gas applications. The company offers light towers under its general tools and light equipment business segment. In September 2018, United Rentals acquired BlueLine Rental. The acquisition helped United Rentals increase its capacity in several metropolitan areas in North America, including both US coasts, the Gulf South, and Ontario, into the commercial construction and industrial markets.
Ask For Sample Pages:https://www.marketsandmarkets.com/requestsampleNew.asp?id=227191154
Report Objectives:
To define, describe and forecast the global light towers market by market type, light type, fuel type, end-user, and regions
To provide detailed information regarding the major factors, such as drivers, restraints, opportunities, and industry-specific challenges, influencing the growth of the light towers market
To strategically analyze the light towers market with respect to individual growth trends, future prospects, and the contribution of each segment to the market
To strategically profile key players and comprehensively analyze their market shares and core competencies
To track and analyze competitive developments such as contracts & agreements, expansions, new product launches, mergers & acquisitions, and partnerships & collaborations in the light towers market