According to MarketsandMarkets, the "Meat Starter Cultures Market by Application (Sausages, Salami, Dry-cured meat, and Others), Microorganism (Bacteria, and Fungi), Composition (Multi-strain mix, Single strain, and Multi-strain), Form, and Region – Global Forecast to 2025″ size is estimated to be valued at USD 62 million in 2020 and projected to reach USD 76 million by 2025, recording a CAGR of 3.9%, in terms of value. The functional properties of meat starter cultures and their benefits while incorporation in a wide range of applications are driving the global meat starter cultures market.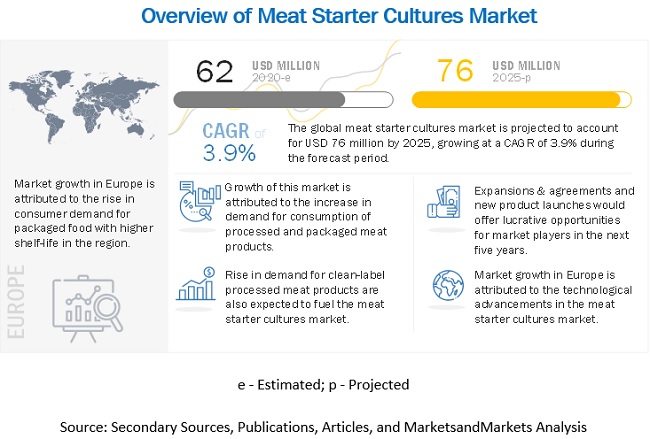 Report Objectives:
Determining and projecting the size of the meat starter cultures market, with respect to composition, microorganism, application, and regional markets, over a five-year period, ranging from 2020 to 2025
Analyzing and projecting the optimistic, pessimistic, and realistic impacts of COVID-19 on the market, with respect to composition, microorganism, application, and regional markets between 2020 and 2021
Identifying the attractive opportunities in the market by determining the largest and fastest-growing segments across regions
Providing detailed information about the key factors influencing the growth of the market (drivers, restraints, opportunities, and industry-specific challenges)
Analyzing the micro-markets, with respect to individual growth trends, prospects, and their contribution to the total market
Download PDF Brochure: https://www.marketsandmarkets.com/pdfdownloadNew.asp?id=43153327
World Trade Organization
The World Trade Organization (WTO) has laid down stringent rules and regulations for the import and export of living microbes. The manufacturer has to obtain an environment clearance certificate, quality certificate, and some other related certifications before manufacturing microorganisms at the industrial level. Since the starter culture industry involves high risk with respect to the health and environment, it would not be easy for new manufacturers to enter the starter culture market. There have been special regulatory measures present for companies to discard the culture and biological effluent after the production.
European Food Safety Authority & Qualified Presumption of Safety
The uses of bacteria must conform to the general food safety standards, such as the European General Food Law (European Parliament and the Council, 2002). The European Food Safety Authority (EFSA) had announced five 'generic' approaches for the safety assessment of microorganisms in food with a history of safe use. This approach includes a qualified presumption of safety (QPS) in food. QPS derives basic knowledge of the microorganisms that includes its pathogenicity, taxonomy, familiarity, and application in food. The Scientific Committee of EFSA indicates that a thorough knowledge of the microorganism is sufficient for awarding the QPS status for numerous species from the groups of lactic acid bacteria and yeast.
Speak to Analyst: https://www.marketsandmarkets.com/speaktoanalystNew.asp?id=43153327
The European region dominated the meat starter culture market with the largest share in 2019.
The meat starter cultures market in Europe is dominant due to the increasing demand for processed meat products with higher shelf-life because of a shift in lifestyle trends. People are looking for ready-to-cook meal options as they are leading a busy life. The consumption of sausage has been prominent in these countries, resulting in a rise in demand for meat starter cultures for their production. The leading companies dominating the meat starter cultures market include Chr. Hansen (Denmark), Kerry Group (Ireland), and DSM (Netherlands); have a robust presence in Europe due to higher demand for packaged meat in these regions.
This report includes a study on the marketing and development strategies, along with the product portfolios of leading companies. It consists of profiles of leading companies, such as Chr. Hansen (Denmark), DSM (Netherlands), Kerry (Ireland), DuPont (US), Frutarom (Israel), Galactic (Belgium), Lallemand (Canada), Proquiga (Spain), Westcombe (UK), Biochem SRL (Italy), RAPS GmbH (Germany), DnR Sausages Supplies. (Canada), Sacco System (Italy), Canada Compound (Canada), Biovitec (France), Genesis Laboratories (Bulgaria), Meat Cracks (Germany), THT S.A. (Belgium), Stuffers Supply Co. (Canada), MicroTec GmbH (Germany), and Codex-Ing Biotech (US).