The medical power supply market is projected to reach USD 1.8 billion by 2025 from USD 1.3 billion in 2020, at a CAGR of 6.9% during the forecast period according to the latest MarketsandMarkets (MnM) analysis. Usage of digital control in medical power supply is a key trend for a medical power supply ecosystem, resulting in the elimination for the risk associated with electric shock thus, it is the key factors supporting the growth of the market.
Download PDF Brochure @ https://www.marketsandmarkets.com/pdfdownloadNew.asp?id=1208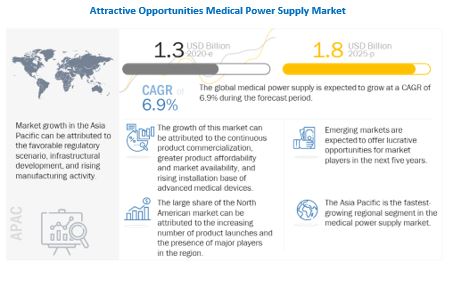 Growth in this market is primarily driven by technological advancements towards the development of programmable medical power supply ; increased funding, research grants, and public-private investments; growing government initiatives to improve healthcare nfrastructure of hospitals; and the emergence of modular AC-DC power supply.
Key Market Players
Advanced Energy Industries (US), Delta Electronics (Taiwan), TDK-Lambda Corporation (Japan), SL Power Electronics (US), XP Power (Singapore), Spellman High Voltage Electronics Corporation (US), COSEL (Japan), FRIWO Gerätebau (Germany), Bel Fuse (US), MEAN WELL Enterprises (Taiwan), GlobTek (US), Wall Industries (US), SynQor(US), Inventus Power (US), and Astrodyne TDI (US) among others are some of the major players operating in the global medical power supply market.
Advanced Energy Industries (US) has a wide range of product offerings in the medical power supply market, including low voltage AC-DC medical power supply, low voltage DC-Dc medical power supply, high voltage AC-DC power Supply and High voltage DC-DC power supply.
COVID-19 Impact on the global Medical Power Supply market
As a result of the pandemic, during March 2020 and throughout the second quarter of 2020, access to customers to sell and implement the medical power supply diminished as hospitals became primarily focused on the COVID-19 pandemic. The pandemic has led to a significant increase in the demand for patient monitoring devices.
Market Segmentation
The MnM report throws light on an inclusive segmental analysis of the global Medical Power Supply market based on Converter Type and Construction.
The 200W and less segment of treatment planning systems products to hold major market share by 2025
Based on application, the radiation oncology segment is expected to account for the largest share of the medical power supply market
The external power supply segment is expected to register the highest growth rate during the forecast period
Regional Analysis
North America, comprising the US and Canada, accounted for the largest share of the medical power supply market. Increasing number of vendors manufacturing medical power supply and a growing number of approvals for medical power supply are the major factors driving market growth in North America.
Request for Sample Pages @ https://www.marketsandmarkets.com/requestsampleNew.asp?id=1208
Customers in North America are moving towards outsourcing for crubing manufaturing expense, which is increasing demand for medical power supply. This trend will have a positive impact on the medical power supply market.