According to MarketsandMarkets, the global natural sweeteners market size is estimated to be valued at USD 2.8 billion in 2020 and is projected to reach USD 3.8 billion by 2025, recording a CAGR of 6.1% in terms of value. Natural sweeteners are gaining high importance and demand due to the increasing health concerns over the consumption of sugar and problems related to the safety of some non-nutritive artificial sweeteners. Natural sugars have wide application in the industries, including food processing, pharmaceuticals, personal care, and others, which in turn creating demand for the various natural sweeteners.
Based on type, the natural sweeteners market is dominated by sorbitol. The majority of the sweeteners are multiple times sweeter than the conventional sugar; for instance, certain natural sweeteners are 250–300 times sweeter. Owing to this, only smaller amounts of these sweeteners are required or utilized in order to provide a similar level of sweetness. Certain sweeteners are low in calories, and some have no calories. Sorbitol is a low-calorie sugar known as a polyol or sugar alcohol.
The confectionery & gums segment dominated the global natural sweeteners market, on the basis of application, in 2019. The confectionery industry players have started relying on nutritive sweeteners for the many physical and chemical properties that they impart. The most commonly used sweeteners, sucrose, dextrose (glucose), and corn syrups, are fundamental in producing confectionery items such as hard candy, caramel, taffy, chewing gum, chocolate, and gum candies

The natural sweeteners market, on the basis of end-use sector, is dominated by the food & beverage segment in 2019. Apart from the growing demand from end consumers resulting in a shift among manufacturers for the choice of their ingredients in the food & beverage sector, factors such as fluctuating prices and supply of sugars further drive the demand.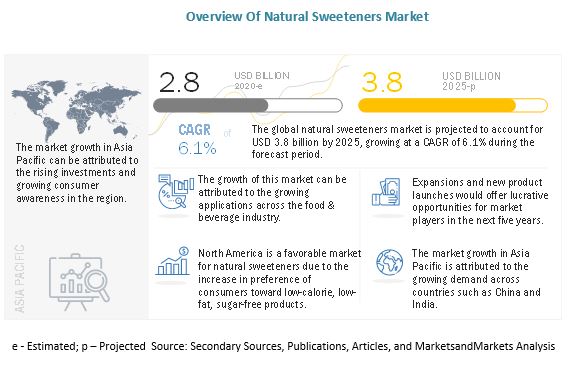 COVID-19 Analysis
The global natural sweeteners market is impacted highly due to the uncertain pandemic circumstances that occurred across the globe. The effects of COVID-19 impact the supply chain of the final products, as well as raw material ingredients. The North American region, followed by the Europe and Asia Pacific region, plays a vital role in the natural sweeteners market due to the concentration of several key players operating from these regions.
Hence, the market in terms of supply is projected to witness hindrances, as natural sweeteners produced by many key players in these regions cater to the end-users across the world. However, regional consumption is projected to witness a surge in the respective market itself, as consumers are increasingly concentrating on maintaining weight and following different diets for maintaining good health. This, altogether, is projected to drive the demand for natural sweeteners.
Key players are DuPont (US), ADM (US), Tate & Lyle PLC (UK), Cargill (US), Ingredion Incorporated (US), Roquette Frères (France), FoodChem International Corporation (China), PureCircle Ltd (US), MacAndrews & Forbes Holdings Inc (Merisant) (US), Ecogreen Oleochemicals Pvt Ltd (Indonesia), Pyure Brands LLC (US), Stevia Hub India (India), Suminter India Organics (India), Stevia Biotech Pvt Ltd (India), The Real Stevia Company (Sweden), Sweetly Stevia USA (UK), XiliNat (Mexico), Fooditive B.V. (Netherlands), Saganà Association (Switzerland), and Hearthside Food Solutions LLC (US).