The global gluten-free products market size is estimated to account for about USD 5.6 billion in 2020 and projected to reach a value of nearly USD 8.3 billion by 2025, growing at a CAGR of 8.1% from 2020 to 2025. The gluten-free products market is driven by factors such as increased diagnosis of celiac diseases and rising adoption for special dietary lifestyles & free form food products. Also, increasing availability of gluten-free products in organized retails is expected to propel the growth of this market in the coming years. However, high cost of gluten-free products compare to conventional gluten-containing products is hampering the market growth.
The North American market is currently dominating the global gluten-free products market. Factors leading to the dominance of this region in the global market include the relatively high awareness of gluten-free products, diagnosed celiac patients, key players existing in the market, and higher purchasing power of the populace. According to the Celiac Disease Foundation, the incidence rate of celiac disease amongst Americans stood at 0.5% in 2018. About three million Americans have celiac disease, and a further estimated 40 million suffer from gluten-intolerance or sensitivity. According to the same data, experts have anticipated that the number of celiac patients in the region is expected to double every 15 years. This is attributed to the heavy consumption of bread and other gluten-containing foods and food products as a majority part of the meal as compared to the consumption among the populace in other regions.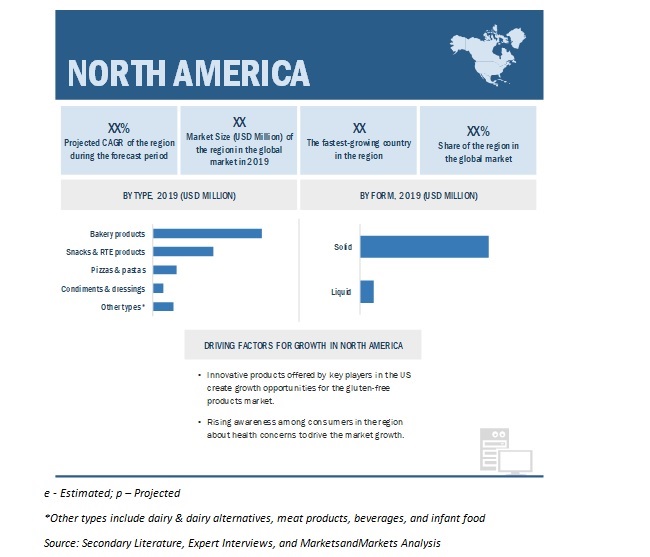 As consumers are becoming aware of the diseases caused by heavy consumption of gluten, most are now moving toward a gluten-free diet, further enabling product manufacturers to develop a strong gluten-free product portfolio. Additionally, various prominent companies are now coming up with different variants of gluten-free products to tap into this dynamic food product category. General Mills, The Kraft Heinz Company, and Kellogg's Company are a few major players in the gluten-free products category in the region that drive growth by offering a broad range of gluten-free products and introducing newer product innovations catering to dynamic consumer demands in the market.

The key players in the gluten-free products market include The Kraft Heinz Company (US), The Hain Celestial Group Inc (US), General Mills (US), Kellogg's Company (US), ConAgra Brands Inc (US), Hero AG (Switzerland), Barilla G.E.R Fratelli S.P.A (Italy), Quinoa Corporation (US), Freedom Foods Group Limited (Australia), Koninklijke Wessanen N.V (Netherlands), Raisio PLC (Finland), Dr Schär AG/SPA (Italy), Enjoy Life Foods (US), Farmo S.P.A. (Italy), Big OZ (UK), Alara Wholefoods Ltd (UK), Norside Foods Ltd (UK), Warburtons (UK), Silly Yaks (Australia), Seitz Glutenfrei GMBH (Germany), Bobs Red Mill (US), Kelkin Ltd (Ireland), Amys Foods (US), Golden West Specialty Foods (US), and Prima Foods (UK).