The global autonomous tractors market is projected to witness demand for 12,508 Units in 2019 and 60,901 Units by 2025, at a CAGR of 24.89%.
The growth of the market is expected to be driven by the improved efficiency and productivity of crop yield offered by these tractors and growth in initiatives by governments for the adoption of new technologies. The increase in the average age of farmers in developed countries and decline in the availability of labor are also major factors that will drive the demand for autonomous tractors in the near future.
North America is expected to account for the largest share of the market in 2019. The higher disposable incomes of farmers, lack of trained farm labor, and well-developed technology are the primary reasons for the future expansion of the North American autonomous tractors market.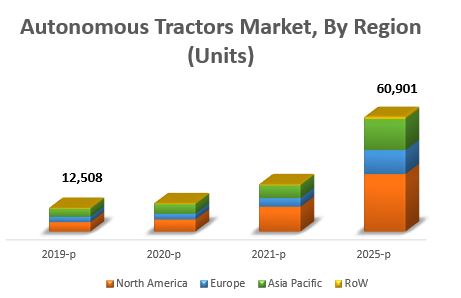 In North America, it being a developed region, the sizes of farms are usually large, and customer loyalty is high. As the arms are large, demand for high-powered tractors in the US is starting to gain traction. The US is the largest market for autonomous tractors in the North American region.

The market is dominated by AGCO (US), CNH (UK), Mahindra & Mahindra (India), Deere (US), Kubota Corporation (Japan), Yanmar (Japan), and Autonomous Tractor Corporation (US).
These companies have a strong distribution network at the global level. The key strategies adopted by these companies to sustain their market position are new product development and acquisitions. All the parameters mentioned above have been analyzed to derive the market ranking of these companies.