The non-thermal pasteurization market is estimated to account for about USD 1.3 billion in 2020 and is projected to reach a value of about USD 3.9 billion by 2026, at a CAGR of 19.8%.
The growth of the convenience food sector, which includes products such as frozen foods and ready-to-eat foods, has increased the demand for non-thermal pasteurization, as these technologies reduce the processing time and increase the production capacity to meet the growing market demand. However, high capital investment is hampering non-thermal pasteurization market growth.
The North American market is projected to grow at the highest CAGR during the forecast period due to the rising movements such as "Go Clean Label"
The growth of the North America non-thermal pasteurization market is attributed to the increasing awareness among food product manufacturers about the importance of non-thermal pasteurization. Further, with rapid economic growth in the region, the demand for meat is rising particularly in China, India, Japan, and Australia. This increased demand for meat products has driven meat production in this region, which, in turn, has contributed to the market growth. Changing busy lifestyle of consumers and rising health awareness are also factors that are driving the market growth.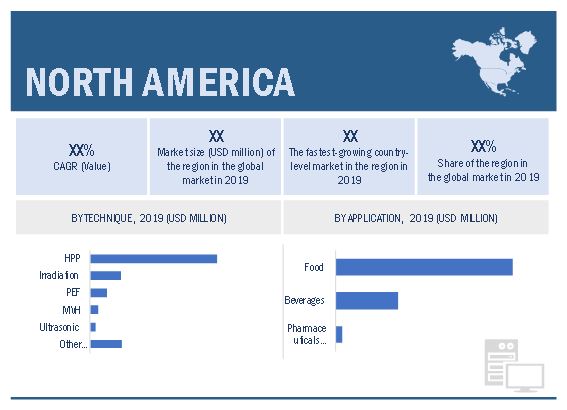 The region is projected to offer huge growth potential to the non-thermal pasteurization market. The use of non-thermal pasteurization techniques are increasing more rapidly in North America due to the demand for extended, safe, refrigerated shelf life; and favorable food preservation legislation. Food safety authorities have approved several non-thermal pasteurization technologies due to their efficiency and minimum effect on the products' nutritional and textural characteristics. The market for non-thermally pasteurized food & beverage products in North America is also being driven by the demand for health and wellness products.

The key players in this market include JBT (US), Bosch (Germany), Hiperbaric (Spain), ThyssenKrupp AG (Germany), Kobe Steel, Ltd (Japan), Multivac (Germany), Stansted Fluid Power Ltd (UK), CHIC FresherTech (US), Nordion (Canada), Dukane (US), Elea Technology (Germany), Pulsemaster (Netherlands), Baotou KeFa High Pressure Technology Co., Ltd (China), Symbios Technologies (US), Harwood Engineering Company, Inc (US), EXDIN Solutions (Poland), NextHPP (US), Gray*Star (US), Universal Pure (US), and American Pasteurization Company (US).
These players are focusing on improving their presence by undertaking expansions and developing products specific to the requirements of consumers and their preferences in these regions. These companies have a strong presence in Europe and North America. Also, they have set up manufacturing facilities in various regions, and have strong distribution networks.