Feed packaging market is projected to grow from USD 13.8 billion in 2018 to USD 17.8 billion by 2023, at a Compound Annual Growth Rate (CAGR) of 5.2%. The major factors driving the feed packaging market include the increasing trend of pet humanization and the growing spending on the pet care and feed industry in developing regions. Further, the growing demand for shelf extension of feed at small and middle-scale livestock rearers' end is also expected to drive the market.
North America is estimated to account for the largest share of the market in 2018. The region is considered the most advanced, in terms of pet adoption and packaging technology. The market for feed packaging (for pets) in this region is mainly driven by high pet ownership, premiumization, the proliferation of innovations, and the introduction of a variety of packaging types for pet food. Increasing demand for premium pet food with high nutritional value, along with pet food safety concerns among pet owners, has helped to improve the quality standards of packaging and labeling in the region, thereby propelling the market growth for pet food packaging.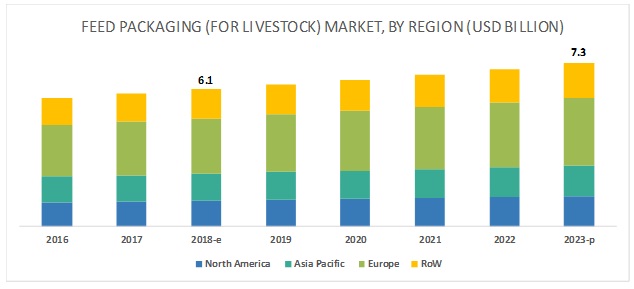 Asia Pacific is the major revenue generating region, in the feed packaging market (for livestock). The region is experiencing maximum developments in the feed production and packaging. With the rapid economic growth in the region, the demand for meat and dairy products is projected to increase, particularly in countries such as China, India, Japan, and Thailand for both domestic consumption as well as exports. This growing demand for meat and dairy products has led to an increase in feed production in the region. Due to these factors, the application of packaging has increased, and the livestock feed packaging market is projected to witness a healthy growth from 2018 to 2023.

The major vendors in the global market are LC Packaging (Netherlands); El Dorado Packaging Inc., (US); NPP Group Limited (Ireland); Plasteuropa Group (UK); NYP Corp. (US); ABC Packaging Direct (US); Shenzhen Longma Industrial Co., Limited (China); Amcor Limited (Australia); Mondi Group (Austria); ProAmpac (US); Sonoco Products Company (US); Winpak Ltd., (Canada); NNZ Group (the Netherlands); Constantia Flexible Group (Austria); and Huhtamäki Oyj (Finland).