The PC as a Service (PCaaS) market is currently in the growth phase and is expected to grow further in the near future. In terms of value, it is expected to grow from USD 15.9 billion in 2019 to USD 141.6 billion by 2024, at a CAGR of 54.9% from 2019 to 2024. The growth of the PCaaS market is driven by factors such as the inclination of businesses toward the OPEX model rather than the CAPEX model, and the superior benefits offered by PCaaS business model. Also, additional advantages of the PCaaS model, such as flexibility and scalability, are expected to drive the PCaaS market.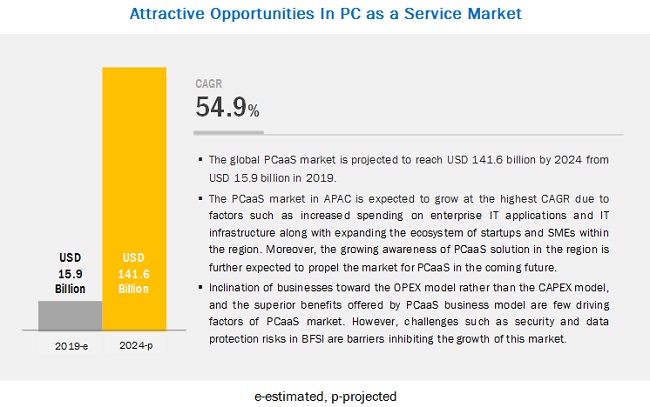 Download PDF Brochure Copy:
https://www.marketsandmarkets.com/pdfdownloadNew.asp?id=155153641
On the other hand, factors such as the absence of awareness in the field of PCaaS in developing countries, and the lack of product differentiation; and challenges such as security and data protection risks in BFSI are barriers inhibiting the growth of this market. However, it is expected that in the coming years, PCaaS vendors will provide more secured platforms and will focus more on data security and protection, which will increase the adoption of PCaaS service among the BFSI vertical. There has been a rising trend of OEMs becoming multi-brand hardware providers. Leading companies such as HP and managed service providers such as CompuCom have included Apple devices in DaaS solution. There has been a growing trend of offering PCaaS solution for Apple devices.
PCaaS market for software to grow at the highest CAGR during the forecast period.
Software is designed to generate and automate computer programs, which transforms data into specific information. PCaaS subscription offers customized software as per the end-user requirements. Software offerings in PCaaS include operating system/imaging, security software, asset management, as well as other factory-installed software. Companies operating in this space are approaching different independent software vendors (ISVs) for catering to the needs of end-users. PCaaS subscription provides upgrades and maintenance of software on a timely basis at a reasonable cost, allowing companies to enhance productivity and patch security flaws. This is expected to create opportunities for PCaaS and independent software vendors.
The PCaaS market has been segmented based on major regions into North America, Europe, Asia Pacific, and Rest of the World (RoW).
The PCaaS market in APAC is expected to grow at the highest CAGR. The global PCaaS market is expected to grow owing to the shift in organizational preference towards OPEX based business models; allowing them to priorities their investments. The growth is also supported by the benefits offered by PCaaS over traditional PCs and increasing adoption of PCaaS by small and midsized enterprises (SMEs) worldwide. There is a potential demand for PCaaS in untapped regions such as APAC and RoW, creating opportunities for PCaaS vendors.