The report "Pest Control Market by Pest Type (Insects, Rodents, Termites), Control Method (Chemical, Mechanical, Biological), Mode of Application (Sprays, Traps, Baits), Application (Residential, Commercial, Industrial), and Region – Global Forecast to 2026" The global pest control market is projected to reach USD 29.1 billion by 2026, from USD 22.7 billion in 2021, at a CAGR of 5.1% during the forecast period. Increasing awareness about environmental pollution and public health concerns caused by vector-borne diseases are the major factors driving the demand for pest control services across the globe. With the increase in population, there is also increased pressure on limited resources, resulting in overexploitation and environmental degradation. The degradation of the ecosystem leads to global warming and temperature rise, which are expected to enhance the survival capability of pests across different seasons indirectly. Global warming has been an important factor in the movement of tropical pests away from the equatorial region.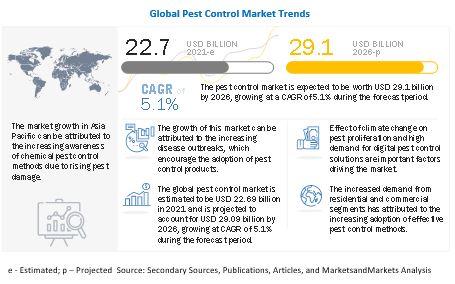 Drivers: Rising adoption of digital applications and technology
One of the most important aspects of food safety in the global food supply chains is pest control. The changes in the way food are produced, sourced, and distributed, along with climate changes, have led to an increase in risks of food safety from pests. In addition, more stringent regulations for food safety and changes in consumer demands are the key factors that are projected to encourage food producers/manufacturers to find more efficient and sustainable ways to ensure food quality and safety. Changes in consumer habits, such as online shopping, have led to an increase in the use of automation in the supply chain, which allows pests to thrive where there are few or no humans around to notice pest infestations or deter pests, such as rats and mice. Thus, pest control manufacturers are adopting greener and smarter pest control solutions.
Download PDF Brochure: https://www.marketsandmarkets.com/pdfdownloadNew.asp?id=144665518
Nowadays, IoT has been a trending technology that helps in the remote monitoring and control of pests. IoT technology allows businesses in the food sector to address these food safety challenges. IoT devices can monitor and report pest activity in real-time and collect data that provides new insights into pest behavior that can help improve pest control and food safety.
By mode of application, the traps segment is the fastest growing segment in the market during the forecast period
Traps are among the oldest forms of pest control and can be used to control certain forms of insects as well as wildlife pests. The different types of traps include glue traps, rat traps, mesh, mousetraps, cages, and snare traps. Traps are among the more popular solutions as they are inexpensive and can often be used multiple times. While most of these traps require manual handling, there have been developments with respect to a newer generation of traps that employ a higher degree of digital components. Modern rodent management systems such as the Rodent Monitoring System (RMS) from Bayer incorporates radio signals and server commands that inform the facility manager when a rodent is caught.
Make an Inquiry: https://www.marketsandmarkets.com/Enquiry_Before_BuyingNew.asp?id=144665518
Asia Pacific region is projected to witness the highest growth in the pest control market by 2026.
The Asia Pacific region is among the fastest-growing regions for pest control. The region's high concentration of urban population and urbanization poses a strong potential for pest control service providers. The effects of climate change and in certain cases, the negligence toward sanitary conditions in urban slums has resulted in multiple disease outbreaks. Improvements in legislation and policies surrounding the requirement of pest control have benefitted pest control service providers in the Asia Pacific region. Additionally, the region has also been susceptible to many pest-borne disease outbreaks in the last two decades. From the last quarter of 2015, there has been a significant number of cases related to Zika virus in the region. Zika virus is a mosquito transmitted Flavivirus and has been detected in several countries in the Asia Pacific region, which include Thailand, the Philippines, Malaysia, Vietnam, and Indonesia. According to a WHO report (October 2016), the Asia Pacific region is highly likely to continue to report new cases and possibly new outbreaks of Zika virus. Thus, with increasing outbreaks of diseases due to insects, the demand for pest control services is projected to increase in the region.
The key service providers in this market include Terminix (US), Ecolab (US), Rollins Inc. (US), Rentokil Initial Plc (UK), and Anticimex (Sweden). The pesticide suppliers in the pest control market include Bayer AG (Germany), BASF (Germany), Syngenta AG (Switzerland), Sumitomo Chemicals Co. Ltd. (Japan), ADAMA (Israel), FMC Corporation (US), Corteva Agriscience (US), PelGar International (UK), and Bell Laboratories (US).