The global power monitoring market is expected to grow from an estimated USD 3.8 billion in 2019 to USD 5.2 billion by 2024, at a CAGR of 6.1% during the forecast period. Increasing focus on the efficient utilization of power resources, growing attention to reducing cost and maximizing the reliability of electrical infrastructure are the primary drivers of the power monitoring market.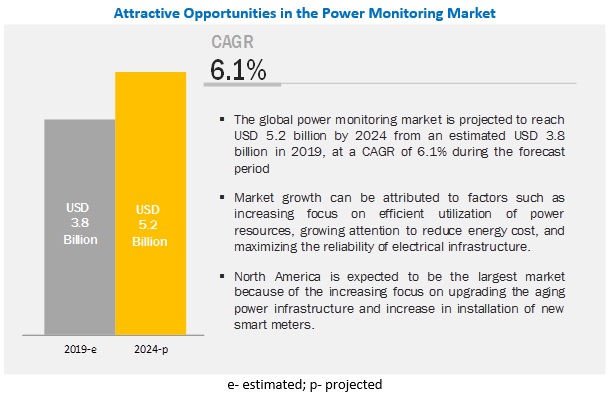 North America is estimated to be the largest growing power monitoring market during the forecast period. The growth of this region is driven primarily by countries such as the US, Canada, and Mexico. The focus of the governments in the North American region on upgrading and replacing their aging infrastructure, improving grid reliability, and enabling smarter power networks is likely to spur demand for power monitoring systems during the forecast period. The US and Canadian utilities are expected to invest USD 880 billion and USD 100 billion, respectively, in power networks for a period of next 20 years. This investment would include sectors such as smart grids, digitization, power monitoring, and energy management among others. Thereby ensuring reliable, uninterrupted, and quality power supply to its customers. Furthermore, the growth of information technology (IT) hubs and other commercial sectors in the region has further emphasized the requirement for quality power and higher energy efficiency.
Download PDF Brochure @ https://www.marketsandmarkets.com/pdfdownloadNew.asp?id=197503460
The power monitoring market is segmented by components, into hardware, software, and services. The hardware segment accounted for the major share of the market in 2019. This is attributed to the increasing implementation of smart grid technologies and government regulations to install smart meters in major regions such as North America and Europe. The market for hardware is further sub-segmented into metering & communication devices and measurement devices. Metering & communication devices is expected to grow at a highest CAGR during the forecast period. The applications of metering devices include data collection, customer billing, metering, sub-metering, panel metering, revenue metering, and advanced utility metering. These meters provide real-time data and are useful for reducing power outages and balancing critical electrical loads
The power monitoring market has been categorized, based on end-users, into the manufacturing & process industry, data centers, public infrastructure, utilities & renewables, and EV charging stations. The datacenter's segment is expected to be the fastest growing end-users of power monitoring. This is because new technologies drive data centers in the IT field. The 24*7 uptime of a datacenter would require the entire system to work with reliable power supply, and power monitoring systems will not only reduce its energy costs but also helps in the effective utilization of the power resources.
Manufactring & process industry is the largest market for power monitoring. The demand for power monitoring in the manufacturing and process segment is driven by the factors such as energy efficiency, power surges, and uninterrupted power supply. Any power surge or power outage can affect the critical function of the industry and can have severe economic implications.
Request for sample pages of the report @ https://www.marketsandmarkets.com/requestsampleNew.asp?id=197503460
Market Ecosystem:
The global power monitoring market is dominated by a few major players that have an extensive regional presence. The leading players in the power monitoring market are
Schneider Electric  (France),
Eaton(Ireland),
Siemens(Germany),
General Electric(US),
Rockwell Automation  (US) and many more…
The major strategies adopted by the players include new product developments, contracts & agreements, partnerships, collaborations, and mergers & acquisitions. New Product Developments were the most commonly utilized strategy from 2016 to September 2019.
Schneider Electric (France) is one of the leading providers of automation and energy management-related products and solutions to various end-users such as nonresidential & residential buildings, utilities & infrastructure, industry & machine manufacturers, and data centers & networks. The company offers power monitoring through its low voltage business segment.
Speak to Analyst @https://www.marketsandmarkets.com/speaktoanalystNew.asp?id=197503460
Siemens is a German industrial conglomerate with core activities in the fields of electrification, automation, and digitalization. It operates through 8 business segments, namely, power and gas, energy management, building technologies, mobility, digital factory, process industries and drives, healthiness, Siemens Gamesa Renewable Energy, and financial services. The energy management division offers products for power generation, compression, and expansion, high voltage power transmission, low and medium voltage power distribution, renewable energy, as well as services.