The global protein ingredients market size is projected to grow from USD 49.8 billion in 2019 to USD 70.7 billion by 2025, at a CAGR of 6.0% during the forecast period. The protein ingredients market is driven by factors such as the increasing demand for protein functionalities, awareness about healthy diet & nutritional food, new technological development in the protein ingredients industry, growth in demand for superior personal care and healthcare products, and increase in consumption of animal by-products, which are in turn supported by the economic growth, technological advancements, and consumer preference for functional products. However, factors such as stringent government regulations on animal-sourced protein are expected to restrain the market growth of animal protein.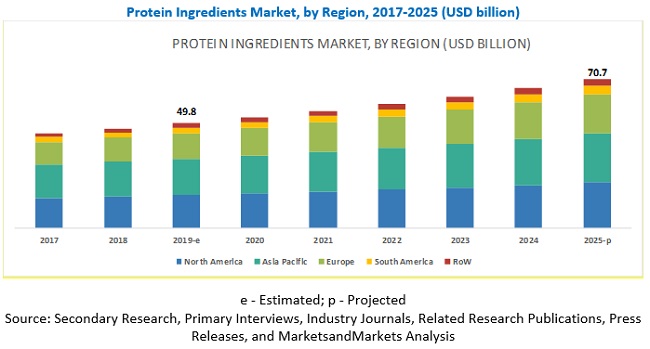 Report Objectives:
Determining and projecting the size of the protein ingredients market, with respect to type, livestock, form, source, and regional markets, over a six-year period ranging from 2019 to 2025
Identifying attractive opportunities in the market by determining the largest and fastest-growing segments across regions
Providing detailed information about the key factors influencing the growth of the market (drivers, restraints, opportunities, and industry-specific challenges)
Analyzing the micromarkets, with respect to individual growth trends, future prospects, and their contribution to the total market
Identifying and profiling key market players in the global market
Download PDF Brochure:
https://www.marketsandmarkets.com/pdfdownloadNew.asp?id=114688236
The dry form is projected to hold the largest market share during the forecast period.
The dry form or powder form is extracted through a number of downstream processes, which helps to obtain the desired moisture content and protein concentration in the end products. The dry form of protein ingredients is preferred due to its better stability and ease of handling & storage, as compared to the liquid form. Furthermore, they have a longer shelf life compared to the liquid form.
Animal based proteins are dominating the global protein ingredients market.
On the basis of source, the market for protein ingredients is classified into animal and plant protein. The demand for animal-based protein ingredients held a dominant share in the protein ingredients market across regions, particularly in North America and Europe, where the consumption of animal-based protein remains high.
Asia Pacific is projected to be the fastest-growing region during the forecast period.
Asia Pacific is projected to be the fastest-growing region during the forecast period. The market in the region is driven by increase in population growth especially in countries such as China and India. Further, rise in demand for healthy food products having high nutritional value such as soy, wheat, and vegetable protein is driving the market in this region.
Major vendors in the protein ingredients market  include Cargill (US), ADM (US), DowDuPont (US), Kerry Group (Ireland), Omega Protein Corporation (US), Friesland (Netherlands), Fonterra (New Zealand), Arla Foods (Denmark), AMCO (US), Roquette (France), Gelita AG (Germany), Kewpie Corporation (Japan), AGARNA (Austria), AMCO Proteins (US), Hilmar Ingredients (US), Axiom Foods (US), and Burcon Nutrascience (Canada).
Request for Customization:
https://www.marketsandmarkets.com/requestCustomizationNew.asp?id=114688236
Recent Developments:
In August 2019, Cargill (US) invested USD 75 million to expand the production capacity for PURIS Pea protein at its Minneapolis facility due to surge in the demand for pea protein. This initiative was strategically taken by witnessing a growing demand for plant-based protein in the North American region. Through this they aim to cater to a large number of customers with tasty, sustainable and label-friendly pea protein across North America.
In July 2018, ADM (US) and Cargill (US) launched their new joint venture SoyVen in Egypt to manufacture soybean meal and oil for customers in Egypt. Both the companies hold equal interest in the company. Their production plant is located in Borg Al-Arab whose daily production capacity is doubled to 6,000 MT, witnessing a growing demand for higher-protein soybean meal and oil by the Egyptian customers. This will also lower down the need for imports from the international markets.
In November 2017, ADM expanded its ingredient portfolio with the launch of Nutriance, a range of wheat protein concentrates having applications in sports and geriatric nutrition.
In April 2017, DowDuPont launched SUPRO XT 55, an isolated soy protein in protein beverages to increase its product portfolio.