The vector control market was valued at USD 15.12 Billion in 2017 and is projected to reach 20.37 Billion by 2023, at a CAGR of 5.13% during the forecast period. Factors such as the rising prevalence of vector-based diseases worldwide, promotions by the individual country government as a part of their disease/vector eradication programs, and the efficiency of a chemical-based vector control products have been the primary drivers responsible for the growth of the vector control market.

The Increasing population has paved the way to an increase in pressure for the limited resources, which has resulted in overexploitation eventually causing a threat to the environment by chemical poisoning and degradation associated with chemical-based products, thus alternative control methods are under the research phase.
Furthermore, regulations on the use of chemical insecticides have become stringent in North American and European countries, owing to the environmental concerns rising from their usage. This has led to opportunities for the growth of biological insect pest control methods. However, there is still significant demand for synthetic insecticides among public health authorities, and pest control service providers as their biological counterparts are environment-friendly but less effective and require repeated usage for optimum results.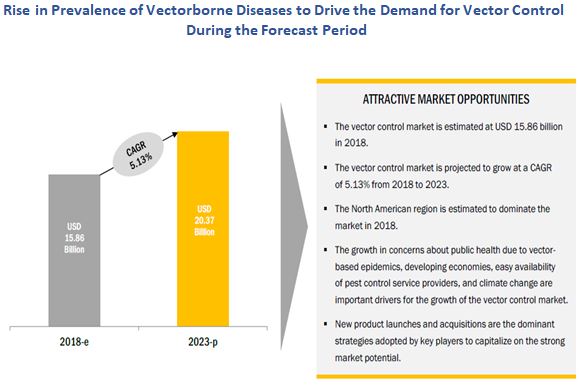 Additionally, the market in Asia-Pacific region is expected to diversify from the high-value low-volume commercial sector to the low-value high-volume residential sector due to the increase in the living standards of urban people in countries such as India, China, Brazil, and South Africa. These trends are expected to propel the vector control market during the forecast period.

The various contributors involved in the value chain of the vector control market include manufacturers such as Bayer AG (Germany), Syngenta AG (Switzerland), BASF SE (Germany), Bell Laboratories, Inc. (US), and FMC Corporation (US); R&D institutes; service providing companies such Rentokil Initial plc (UK), Ecolab (US), The Terminix International Company LP (US), Rollins, Inc. (US), Anticimex Group (Sweden), Arrow Exterminators, Inc. (US), Massey Services Inc. (US), Ensystex (US); and government bodies, regulatory associations, and world recognized agencies such as the World Health Organization (WHO), US President's Malaria Initiatives (PMI), United States Environmental Protection Agency (US EPA), and The Federal Insecticide, Fungicide, and Rodenticide Act (FIFRA).