The report "Silage Additives Market by Type (Inoculants, Organic Acids, Sugars, Absorbents, NPN Nutrients), Silage Crop (Corn, Alfalfa, Sorghum, Oats, Barley, Rye) Function (Stimulation, Inhibition), Form, and Region – Global Forecast to 2022″, The silage additives market is projected to grow at a CAGR of 4.40% from an estimated value of USD 1.62 Billion in 2017 to reach USD 2.00 Billion by 2022. The market is driven by factors such as the rise in demand for sustainable farming practices, growth in research on cost-effective silage preparation processes, and the impact of silage additives on silage quality and production costs.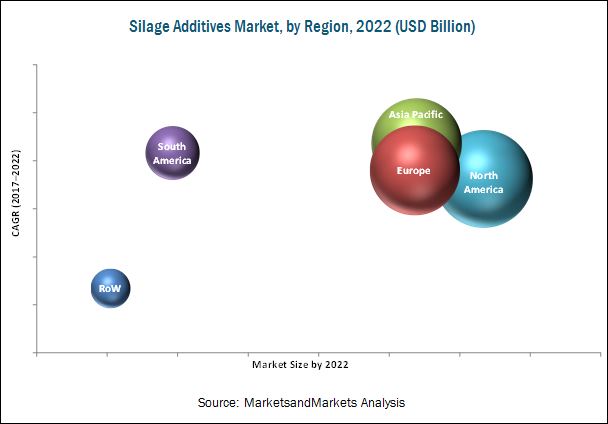 Corn segment is projected to be an important silage crop in the silage additives market
Corn is the major silage being produced across the globe, and the majority of corn silage is produced in the US and European countries. Silage additives such as homofermentative inoculants are used extensively by dairy farmers in these regions, and there has been an increase in demand for silage additives from developing regions as well. Hence, the corn segment dominated the silage additives market in 2016.
Download PDF Brochure:
https://www.marketsandmarkets.com/pdfdownloadNew.asp?id=231745563
Inoculants segment, by type, is projected to remain in the higher growth curve in the next five years
Factors such as reduced demand for organic acids owing to the safety and health hazard posed by them, rise in trend of biologicals in the market, and effective fermentation stimulation imparting higher silage quality in comparison with other additives are projected to fuel the demand for inoculants as they can significantly reduce the wastage of silage, thereby improving the product-effectiveness.
Significant competition to capitalize the market potential among international manufacturers in the Asia Pacific and South American regions
Rise in export quality requirements for agricultural products and increasing adoption of sustainable agriculture practices in countries such as China, Australia, New Zealand, India, Brazil, and Argentina are expected to drive the demand for silage additives among the silage growers in the Asia Pacific and South American regions during the forecast period. This would increase the inflow of various international manufacturers to set up their business units and distribution networks, thereby leading to a strong market competition.
Speak to Analyst:
https://www.marketsandmarkets.com/speaktoanalystNew.asp?id=231745563
This report includes a study of marketing and development strategies, along with the product portfolio of leading companies. These companies include Lallemand (US), DuPont, Pioneer (US), Chr. Hansen (Denmark), Schaumann Bioenergy (Germany), and BASF (Germany), which are some of the well-established and financially stable players that have been operating in the industry for several years. Other players include Volac (UK), Trouw Nutrition (Netherlands), ADDCON (Germany), Micron Bio-Systems (US), Biomin (Germany), American Farm Products (US), and Josera (Germany).