The soil conditioners market is estimated to account for a value of USD 1.7 billion in 2020 and is projected to grow at a CAGR of 8.3% from 2020, to reach a value of USD 2.5 billion by 2025. The global market is projected to witness significant growth due to factors such as rise in demand for agriculture crops, especially from developing countries, decrease in availability of arable land due to industrialization in both developed and developing countries, and shrinkage in productivity of soil due to use of fertilizers and chemicals.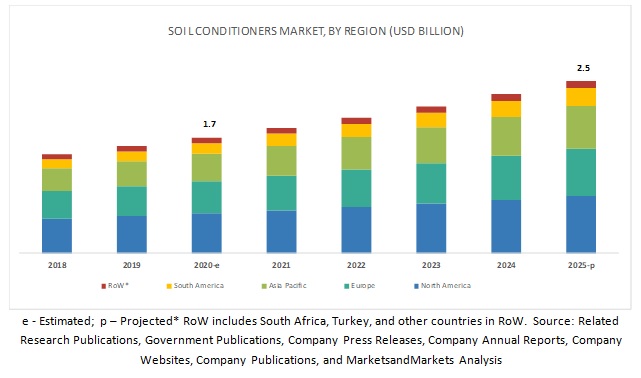 Drivers and Restraints:
The several factors analyzed in the report positively influence as well as negatively affect each of the sub-segments of the market. The factors driving the growth of the soil conditioners market are the ease of availability of raw materials, strong market demand for organic farming and high-value crops, and the growing concerns regarding soil health, which plays a critical role in crop growth and productivity. The use of soil conditioners is majorly observed in high-value crops, such as fruits & vegetables, followed by cereals & grains.
Download PDF Brochure: https://www.marketsandmarkets.com/pdfdownloadNew.asp?id=171774013
The key drivers and restraints to the soil conditioners market are enlisted below:
Key Drivers to Soil Conditioners Market include:
Increase in awareness about soil management practices
Need for food security and enhanced nutrient management in soil
Advancements in farming practices
Key Restraint to the Soil Conditioners Market include:
Low adoption rate & high cost of inorganic soil conditioners
Purchase of low-quality products by farmers
The surfactants segment is projected to be the largest segment in soil conditioners market during the forecast period.
Surfactants are also termed as soil wetting agents. Soil surfactants are the soil wetting agents that are designed for improving infiltration, water distribution, and water retention. Several players offer wetting agents having application in turf and agrochemicals industry. Solvay (Belgium) is among the leading player offering a wide portfolio of wetting agents having application in agriculture. Apart from this, Aquatrols (US) is also backed by a wide variety of surfactants portfolio having applications in turf and agriculture. Increase in number of sports turf in developed countries and increased demand for agricultural crops in developing countries is expected to drive demand for surfactants in the years to come.
The increasing demand for liquid soil conditioners in the South American region is projected to drive the growth of the soil conditioners market.
South American countries have agricultural hubs, such as Brazil, Argentina, and Chile, which contribute to the major farm outputs in the region. Brazil is the largest producer of soybean in the region as well at a global level. It is also the largest producer of other crops such as sugarcane and other key crops at a global level. The farmers in the region have largely adopted the use of liquid soil conditioners and wetting agents, as they are easy to apply, do not require much labor, and increase the yield. The availability of arable land and the expansion of farmlands, especially in Brazil, Argentina, and Chile, promise the growth of this market. Moreover, the need to improve the per hectare crop yield is another opportunity for the growth of the market in South America.
Make an Inquiry: https://www.marketsandmarkets.com/Enquiry_Before_BuyingNew.asp?id=171774013
Key Market Players:
Key players in this market include BASF (Germany), Syngenta (Switzerland), Novozymes (Denmark), Solvay (Belgium), UPL (India), Clariant (Switzerland), Evonik Industries (Germany), Eastman Chemical Company (US), Croda International PLC (UK), ADEKA Corporation (Japan), Vantage Specialty Chemicals (US), Aquatrols (US), Rallis India Limited (India), Humintech GmbH (Germany), GreenBest Ltd (UK), Omnia Specialities Australia (Australia), Grow More, Inc. (US), Geoponics Corp. (US), Delbon (France), and FoxFarm Soil & Fertilizer Co. (US). These major players in this market are focusing on increasing their presence through new product launches and acquisitions. These companies have a strong presence in North America, Asia Pacific, South America, and Europe. They also have manufacturing facilities and strong distribution networks across these regions.