The solar lighting system market is projected to reach USD 10.8 billion by 2024 from USD 5.2 billion in 2019, at a CAGR of 15.6%. Major drivers for the growth of the market are growing need for energy-efficient solar lighting systems for highways, increasing use of renewable energy for lighting, rising penetration and declining cost of LEDs, and growing demand from developing and emerging countries.
Furthermore, underlying opportunities for the solar lighting system market include favorable government initiatives and a decline in the cost of the systems. Major restraints for the market are lack of awareness about finance and payback period. The lack of customer ownership in utility-owned solar street lighting poses a significant challenge for the solar lighting system market.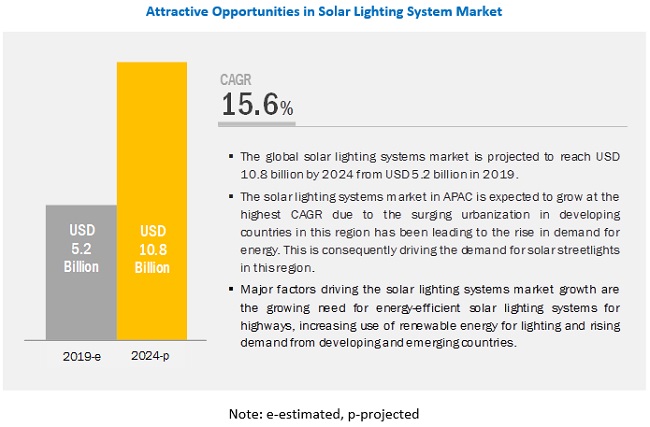 Download PDF Brochure:
https://www.marketsandmarkets.com/pdfdownloadNew.asp?id=207347790
LEDs are used widely in solar lighting systems as these are energy efficient
LEDs offer benefits such as long life, durability, eco-friendly, and zero UV emissions. LEDs are compact and have a life span up to 50,000 hours, which is 30 times longer than incandescent bulbs and 5 times longer than CFLs. In the case of outdoor solar lights, lighting fixtures are exposed to different environmental factors such as heat, wind, and falling objects that can damage the fixtures. LEDs comprise compound semiconductor materials and are hollow. This makes LEDs more durable than other types of lamp that withstand harsh conditions. Therefore, LED lights are the major shareholder in the solar lighting system market and are expected to continue their dominance during the forecast period.
The solar lighting system market for the off-grid is expected to grow at the highest CAGR during the forecast period
Off-grid solar power systems are standalone systems that are independent of any electric networks. These systems are used to collect and store solar energy, which is converted to electricity when required. As these systems are not connected to any utility grids, they cannot take or feed power back into the grid. Thus, the energy produced by the solar system is stored in the battery bank. The off-grid system comprises solar photovoltaic panels that are connected to an inverter. Energy self-sufficiency is one of the most important benefits associated with off-grid solar lighting systems.
The commercial segment is expected to grow at the highest CAGR during the forecast period
Solar lighting systems are installed in commercial areas such as corporate offices, schools, and universities. Commercial spaces need indoor lighting for lighting up cellars, corridors, basements, etc., and outdoor lighting for lighting up pathways and perimeters, among others. Solar lighting systems installed at these places help in decreasing energy and maintenance costs.
APAC is expected to be the largest market for solar lighting system during the forecast period
APAC is a potential market for solar lighting systems with enormous opportunities for the development and implementation of new technologies. Countries such as China, Japan, India, South Korea, and Australia are taking initiatives toward the deployment of solar lighting systems. China is the biggest market in APAC for the implementation of solar lighting system solutions. Surging urbanization in developing countries in this region has been leading to the rise in the demand for energy. This consequently drives the demand for solar streetlights in this region. Catering to the need of these markets will help the vendors to grow their revenue.
Browse in-depth TOC on "Solar Lighting System Market – Global Forecast to 2024" @ https://www.marketsandmarkets.com/Market-Reports/solar-lighting-system-market-207347790.html