The report "Starter Cultures Market by Application (Dairy & dairy-based products, Meat & seafood, and Others), Form, Composition (Multi-strain mix, Single strain, and Multi-strain), Microorganism (Bacteria, Yeast, and Molds), and Region – Global Forecast To 2025″, According to MarketsandMarkets, the global starter culture market size is estimated to be valued at USD 1.0 billion in 2020 and is projected to reach USD 1.3 billion by 2025, recording a CAGR of 5.3%, in terms of value. The growing demand for dairy & dairy-based products and meat & seafood all across the globe is causing a rise in the demand of starter cultures.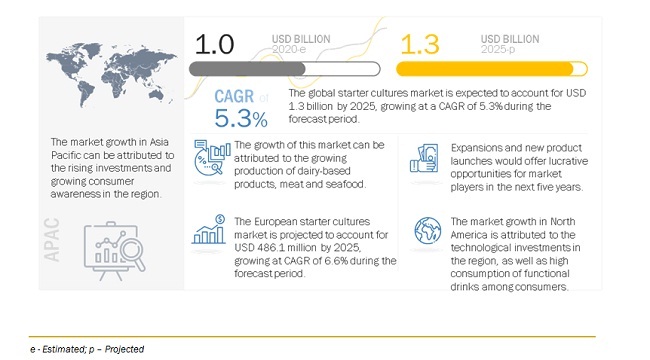 Drivers: Increasing production of dairy-based products and meat and seafood
The growing production of dairy-based products and meat & seafood has led to an increase in demand for starter cultures. With the rising awareness of the benefits of using starter cultures and the increasing number of manufacturers, the starter culture market has shown consistent growth over the years.
Download PDF Brochure:
https://www.marketsandmarkets.com/pdfdownloadNew.asp?id=213083494
The use of starter cultures in meat products resulted from adding a portion of the final meat products to their raw materials, as a result of which that part of the already fermented batch of sausages was thrown back into the new mix. This process is known as back-slopping or back-inoculation. Starter cultures are majorly used in meat production to standardize product properties such as flavor and color, shorten the ripening period, and ensure the safety of the meat item.
Challenges: Fluctuations in the prices of raw materials
The prices of raw materials for starter cultures are volatile, leading to uncertainty in the food & beverage market. Yeast mainly grows in beet or cane molasses, and these are the main substrates for its production. Since the last few years, the prices of molasses are increasing due to their use in other industrial applications such as feed and bio-ethanol production. Yeast also grows on sugar substrates such as sugar syrups. Thus, an increase in the cost of sugar has a direct impact on the price of yeast starter cultures.
Similarly, in the case of bacteria, the major raw materials include the likes of starch, cellulosic materials, and agricultural wastes. Though agricultural wastes are found in abundance, price fluctuations have been a major issue, along with the quality of these materials. The presence of residues in agricultural wastes has been an area of concern for the manufacturing of lactic acid bacteria. Fluctuations in the prices of starch also affect the production of starter cultures.
The Asia Pacific region witness the highest growth rate in the starter cultures market during the forecast period.
The increasing preference among consumers for healthy food, the growing demand for fermented dairy & dairy-based products, and high demand for meat & seafood are some of the major factors for the increased production of these items in the region. With the increasing production, there is an increasing demand for starter cultures. China, India, and Australia & New Zealand are some of the leading markets in the APAC region. Asia Pacific offers great opportunities to manufacturers and suppliers of starter cultures, owing to the cost advantage and high demand in this region. The increase in processed and convenience food production and innovations in segments such as meat, dairy, and beverage products drives the demand for starter cultures in the Asia Pacific region.
Make an Inquiry:
https://www.marketsandmarkets.com/Enquiry_Before_BuyingNew.asp?id=213083494
This report includes a study on the marketing and development strategies, along with the product portfolios of leading companies. It consists of profiles of leading companies, such as Chr. Hansen (Denmark), DSM (Netherlands), DuPont (US), Genesis Laboratories (Bulgaria), Sacco SRL (Italy), Mediterranea Biotecnologie SRL (Italy), Biochem SRL (Italy), Dalton Biotecnologie SRL (Italy), THT S.A. (Belgium), CSK Food (Netherlands), IGEA SRL (Italy), Codex-ing Biotech Ingredients (US), Bioprox (France), Benny Impex. (US), ABsource Biologics (India), Alliance India (India), Lactina Ltd. (Bulgaria), BDF Natural Ingredients (Spain), GEM Cultures (US), Kultured Wellness (Australia), Benebios Inc. (US), Binea (Canada), and Biolacter Inc. (Italy).
Recent Developments:
In September 2019, DuPont (US) introduced the dairy culture series under the brand, Danisco. The company launched Choozit cheese cultures, kefir-d cultures, Holdbac protective cultures, Probat mesophilic cultures, and yogurt cultures to cater to the demand in the North American and European regions.
In July 2019, DSM (Netherlands) launched its new Delvo cheese -120 culture range for young cheddar and barrel cheese to cater to the demand in the dairy industry.
In October 2018, Chr. Hansen (Denmark) acquired an ingredient supplier, Österreichische Laberzeugung Hundsbichler GmbH (Austria). This will help Chr. Hansen to expand its enzyme production and presence in the traditional segment of specialty cheese.
In June 2018, Chr. Hansen (Denmark) launched a new starter in extension to its DVS SSC Series to create a soft cheese with a mild flavor and creamy mouthfeel, to match the taste of millennial cheese consumers.