An automated storage and retrieval system is a device used in manufacturing plants, warehouses, and distribution centers for storing and retrieving loads from one storage location to another. An ASRS comprises various computer-controlled systems and equipment that are used to store and accurately retrieve materials in industries, such as automotive, chemicals, aviation, semiconductors & electronics, e-commerce, retail, food & beverages, healthcare, and metals & heavy machinery. ASRS offers a high degree of accuracy, efficiency, and high-throughput inventory management capabilities.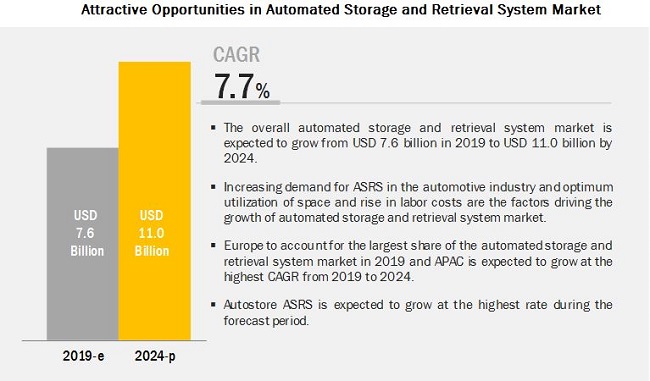 Download PDF Brochure @ https://www.marketsandmarkets.com/pdfdownloadNew.asp?id=195267987
The market growth is mainly attributed to increasing demand for ASRS in the automotive industry; optimum utilization of space and rise in labor costs; and improved accuracy, productivity, and efficiency in supply chain, along with better inventory control. The automated storage and retrieval system market is expected to reach USD 11.0 billion by 2024 from USD 7.6 billion in 2019, at a CAGR of 7.7%. Daifuku (Japan), Murata Machinery (Japan), and SSI Schaefer (Germany) are the leading players in the automated storage and retrieval system market.
Daifuku is a major player in the ASRS market involved in designing and manufacturing innovative solutions in this market. The company focuses on its core material handling business by enhancing sales and production frameworks for its factory & distribution automation (FA&DA). The company adopts the strategy of partnerships and contracts to expand its presence across the world, which would help the company in expanding its customer base and increasing market share. For instance, in October 2018, the company formed a partnership with Fast Retailing. Majority of the company's revenue is generated from APAC and Japan; thus, there is scope for the company to grow in Europe and North America.
Murata Machinery focuses on new opportunities to expand its business worldwide. According to the Five-Year Plan of Murata Machinery, its three main objectives are to achieve quality, innovation, and internationalization. The company has been restructured and reestablished to be more adaptable to changes in the business environment by focusing on strategies such as collaborations and acquisitions. For instance, in October 2018, the company acquired Horibe Machinery, a leading manufacturer of machine tools. In March 2017, the company collaborated with Yamazaki Mazak Corporation for the development of the "MAZATEC SMS" (smart manufacturing system).
SSI Schaefer is a key player in the ASRS market. The company has a huge product portfolio of ASRS. The company focuses on the acquisition strategy to expand its geographic presence along with product portfolio. For instance, in June 2018, the company acquired Incas that has a strong product portfolio for industrial automation solutions for logistics and production monitoring, as well as integrated system and software solutions. The acquisition helped SSI Schaefer in expanding its presence in South West Europe. The company also has a significant experience in software development.