The report "Agricultural Testing Market by Sample (Soil, Water, Seed, Compost, Manure, Biosolids, Plant Tissue), Application (Safety Testing (Toxins, Pathogens, Heavy Metals), Quality Assurance), Technology (Conventional, Rapid), and Region – Global Forecast to 2022″,agricultural testing market is estimated to be valued at USD 4.56 Billion in 2017, and is projected to reach USD 6.29 Billion by 2022, at a CAGR of 6.64%. The market is driven by stringent safety and quality regulations for agricultural commodities, increase in outbreaks of foodborne illnesses, and rapid industrialization leading to the disposal of untreated industrial waste into the environment.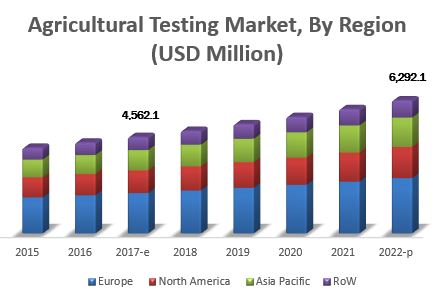 Stringent safety and quality regulations for agricultural commodities
Growing complexities in the supply chain, lack of adoption of good agricultural practices (GAP), and absence of proper hygiene & sanitation practices have resulted in increasing instances of contamination of food, feed, and agricultural products at the beginning of the supply chain, which are responsible for large-scale outbreaks of illnesses and poisoning in both humans and livestock. This has caused severe concerns among farmers, livestock producers, end consumers, regulatory authorities, and other industry stakeholders.
In order to curb instances of illnesses, food regulatory authorities focus on the framework and implementation of strict safety and quality regulations for food, feed, and agricultural products and commodities. This has driven the growth of the testing, inspection, and certification markets. Regulatory bodies such as the United States Department of Agriculture (USDA) and European Food Safety Authority (EFSA) are introducing guidelines for testing, inspection, and sampling services for safety and quality assurance. Similar guidelines are adopted by other countries, worldwide, with slight variations and exceptions in laws.
Furthermore, in countries such as the US, Canada, Australia, and countries in the European Union, various mechanisms have been formed, and there is a strong emphasis in the framework regarding monitoring policies and their strict enforcement to attain higher transparency in the supply chain and ensure traceability. Such moves have ensured that contaminated food, feed, and agricultural products face border rejections and are quarantined. Moreover, violators are penalized with heavy fines and have their licenses revoked. Therefore, in order to comply with the safety and quality parameters set by various regulatory authorities, agricultural testing is increasingly being adopted as an essential pre-emptive measure.
Make an Inquiry:
https://www.marketsandmarkets.com/Enquiry_Before_BuyingNew.asp?id=203945812
Lack of coordination between market stakeholders and supporting infrastructure in developing economies, and improper enforcement of regulatory laws
The agricultural commodities market in developing countries is highly fragmented and is dominated by small farmers and growers who may not have necessarily adopted good agricultural practices, leading to a greater risk of contamination.
Testing of seeds, soil, water, and compost amongst other samples require proper enforcement measures, coordination between market stakeholders, and supporting infrastructure. However, many developing economies are lacking in these aspects, which act as a restraint for the growth of the agricultural testing industry.
Several factors such as lack of equipment and institutional coordination, technical skills, and expertise for the implementation of legislation at grass root levels, and in certain countries, the lack of updated standards, inhibit the market growth for agricultural testing. Furthermore, the lack of basic supporting infrastructure in setting up testing laboratories also acts as a market restraint in the growth of the testing market, especially in developing countries.
Countries such as India, China, and Southeast Asian countries are receiving government assistance for finance and developing technologies. The concerned regulatory bodies of these developing countries should utilize their resources for the development of infrastructure and should focus on technological advancements. However, safety and quality control services require a considerable development of infrastructure and increase in interaction and cooperation between the industry and the government. The lack of these aspects has been hindering the growth of this market in some developing countries.