Application Programming Interfaces (APIs) are the building blocks of application economy. They provide an interface between the internet and connected devices by exposing data and application functionality that enables multiple devices, data streams, and systems to interact through new technology-driven workflows. Advancements in cloud, web, mobile, social media, and digital marketing have transformed the way organizations function. Organizations have realized the necessity for cost-effective scalability solutions to improve the performance of their applications; hence they have started implementing API management solutions.
APIs foster innovation and enable businesses to bring new products and services to the market. It is important to have an established process for publishing, promoting, and governing APIs in a secure and scalable environment. MarketsandMarkets expects the global API management market size to grow from USD 1.2 billion in 2018 to USD 5.1 billion by 2023, at a Compound Annual Growth Rate (CAGR) of 32.9% during the forecast period.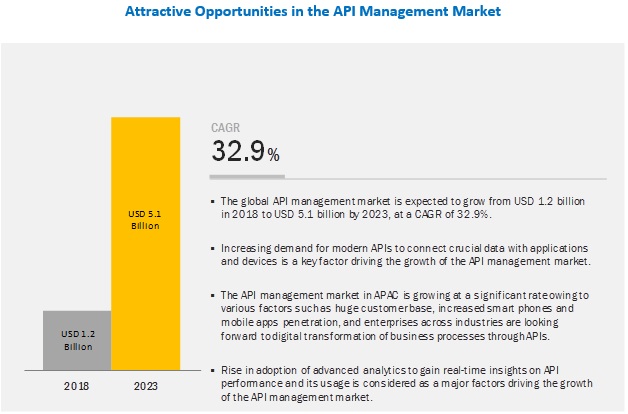 API capabilities can be costly in terms of development times, ongoing maintenance requirements, and providing support. A flawless API integration module requires skilled developers who have extensive programming knowledge and are aware of the latest trends in API building. Finding a highly skilled and knowledgeable developer is one of the biggest challenges for enterprises.
Services considered for the API management market are integration and implementation, consulting, support and maintenance, and training and education. These services assist organizations in deploying the solutions on their premises or the cloud. Vendors provide a complete range of services that help the organization create, monitor, and publish APIs as per the necessity of business. The services segment is believed to have a very promising future, as the API management market size is expected to be evolving rapidly and needs proper pre- and post-consulting, deployment, and overall management of its solutions. Hence, the service providers are majorly focused on delivering dedicated services by understanding the buyers' demands and needs.
The retail and consumer goods industry vertical is expected to be the fastest-growing vertical in terms of adoption of API management solution and services during the forecast period. With the proliferation of the online market, retailers are adopting innovative technologies, such as cloud computing, big data analytics, digital stores, and social media networks, to remain competitive in this industry vertical. Customer experience proves to be a very vital differentiating factor among a wide array of online shopping options. With the advent of APIs, retailers can easily expose their product catalogs, payment wallets, and other eCommerce services as standard services. The API management solution fastens the development of APIs and reduces time to market. Hence, the retail and consumer goods vertical is expected to spend a considerable amount on API management solutions and services.
Among organizations, the Small and Medium-sized Enterprises (SMEs) segment is expected to grow at a higher CAGR during the forecast period. SMEs face some specific challenges, such as the requirement of domain-specific personnel and skilled workforce, budget constraints, and limited economies of scale. The increased competitive market scenario has prompted SMEs to invest in API management solutions to streamline API connections and to make effective data-driven decisions for their business growth. Organizations are investing strategically by implementing API management solutions and services to securely manage API usage and seamlessly connect with dynamic applications. API management service providers help enterprises upkeep their focus on monetizing APIs for generating new revenue streams.
Buy Now @ API Management Market Report